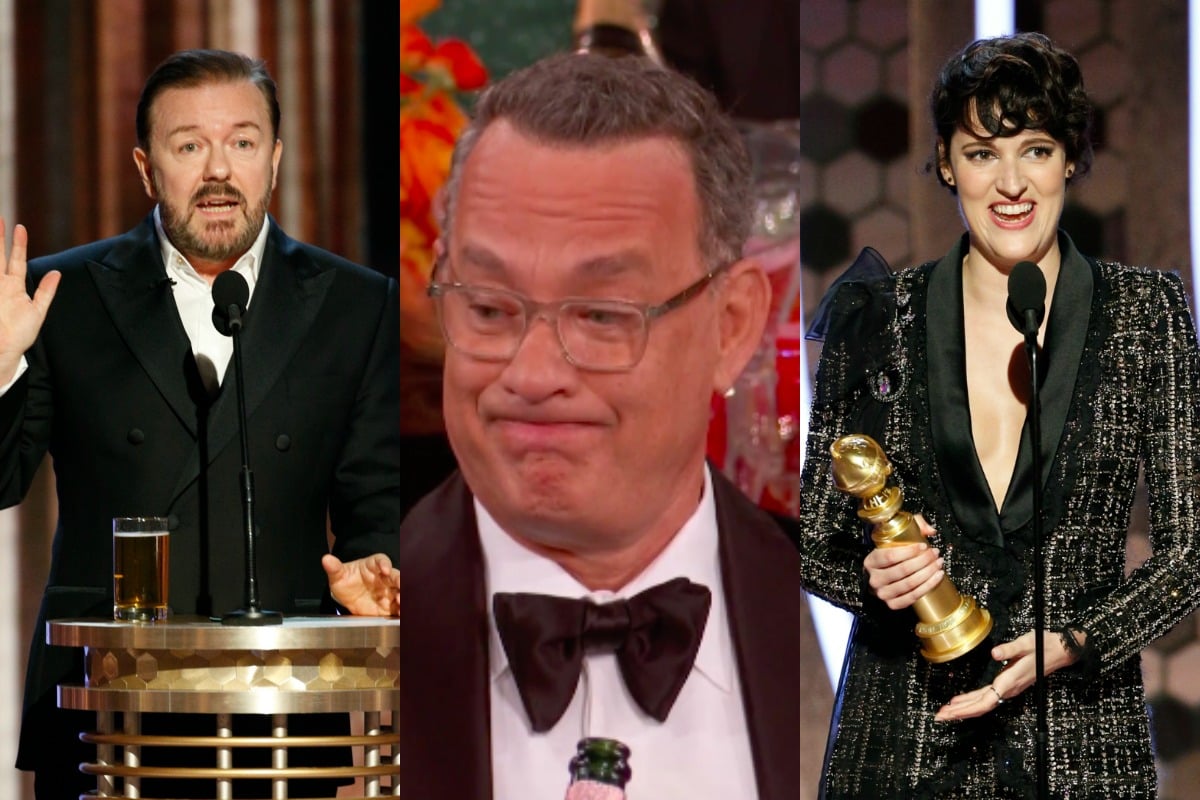 The 2020 Golden Globes are finally here and awards season has officially kicked off.
Today, the who's who of Hollywood settled in at the Beverly Hilton in Los Angeles for a day of hilarious (and often controversial) jabs from Ricky Gervais, award-giving and… awkwardness.
You see, awards season isn't just about red carpets, best-dressed lists, and kick-ass acceptance speeches.
It's also about those easy-to-miss moments that we'll remember for years to come.
Listen to the latest episode of Mamamia's daily entertainment podcast, The Spill, below. 
Last year, we saw Nicole Kidman's infamous stage snub of Rami Malek, Macaulay Culkin's hilarious live-tweeting of the awards in support of his brother Keiran, and of course, accidental viral star Fiji Water Girl.
From Tom Hanks' response to Ricky Gervais' explosive opening monologue to Jason Momoa's black singlet, there were so many blink-and-you-miss-it moments at this year's awards.
Here's a round-up of the eight moments you may have missed from the Golden Globes.
1. When Ryan Seacrest blatantly… lied.
As usual, Ryan Seacrest was back on the red carpet interviewing dozens of celebrities.
But after interviewing Sofia Vergara, fans were quick to point out a slightly awkward moment.
Ryan Seacr*st just said, "my favorite sport is following you on Instagram bc it's so fun. We follow each other…." to Sofia Vergara, but I checked & he does not follow her and she also does not follow him. #GoldenGlobes pic.twitter.com/IY2tAaDYuC

— Danny Pellegrino (@DannyPellegrino) January 6, 2020
"My favourite sport is following you on Instagram because it's so fun. We follow each other," Seacrest told Vergara.