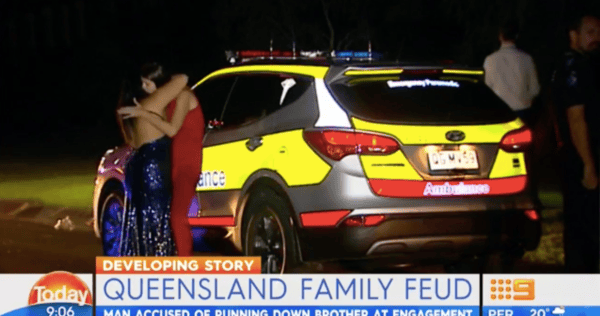 In a night of horror that was described as getting "a little bit heated",  a young man from Queensland was mowed down by his own brother at his engagement party.
The 32-year-old was with family and friends celebrating his upcoming nuptials in the Gold Coast suburb of Tallai when the incident occurred.
The groom-to-be, from Upper Coomera, was reported to have become involved in an argument with his older brother, Cameron Kelly, late into the evening.
Nick Gleeson, a friend of the younger brother, was at the party and spoke to 9News about the horrific attack.
"Towards the end of the night things got a little out of hand, a little heated," Mr Gleeson told 9NEWS.
"There was a couple of arguments and then everything came out onto the street here."
The fight spilled out onto Alawara Drive, where after a confrontation Cameron, 39, tried to drive away. The young groom then stood in front of the car to try and stop him, before the driver accelerated and ran him down.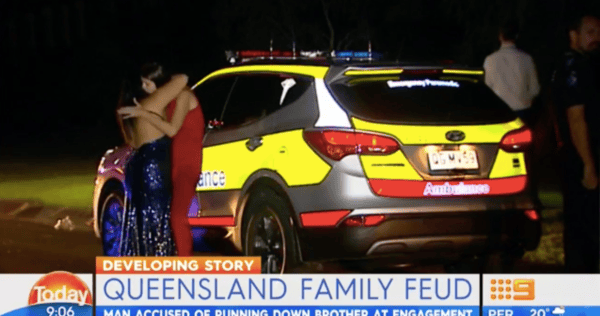 He was thrown from the street onto a nature strip, suffering serious internal injuries and broken arms and legs. He was lucky to survive and was able to remain conscious throughout the ordeal.
"He was in a bad shape, yeah he wasn't moving much, but he was awake, remained conscious the whole time," Mr Gleeson said.
Footage from the incident shows guests in formal attire crying and hugging outside the home following the attack, with the victim's fiance travelling with the man to the Gold Coast University Hospital where he is still undergoing treatment.
According to 9News Brisbane, Cameron Kelly has been arrested and faces charges of dangerous operation of a motor vehicle causing grievous bodily harm, and is behind bars without bail.
Feature image credit: Today Show/ Channel 9.