We're going to go out on a limb here and say there isn't a soul alive who doesn't enjoy watching TV.
Further, there's almost nothing better than the feeling of coming home after a hard day or week, slipping into a pair of stained track pants and settling in on the couch for an episode, or ten, of your current favourite show.
But as every binge TV watcher knows, there comes a point when enough is enough, and it's not even that fun anymore.
So what happens if watching TV, and having to be really excited about it, is your job? Would flicking on Netflix become more like a chore than a joy?
This is the predicament long-running Gogglebox family, Angie and Yvie find themselves during 'on season' which involves hours of TV watching over eight weeks.
"For me, I think [watching TV] feels a bit like work sometimes, we're definitely watching less TV in our time than before [they started the show]," Yvie told Mamamia. Angie agreed, adding: "It's either our own time, or show time".
While nothing comes between these long-time housemates and a good TV show during the off-season, how do the girls and their five foster dogs relax if watching the telly is off the cards?
"I've actually taken up reading again, just as something different to do!" explained Yvie.
"At the moment I'm reading I Am Pilgrim, which is by Terry Hayes. Everyone's reading it at the moment, I'm trying to get a book club started."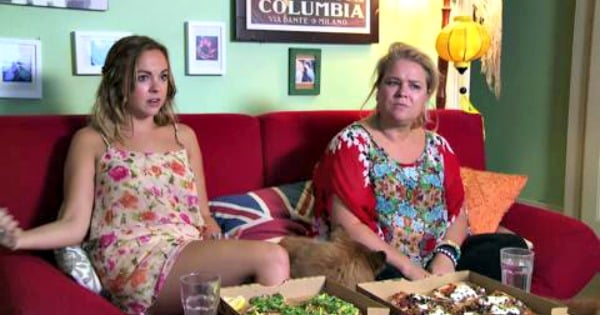 As for the shows they enjoy watching the most during the Gogglebox season, the ladies admitted they love shows from opposite ends of the spectrum.
"The best reaction shows are probably The Bachelorette and The Bachelor, which are really fun to watch. I love a good doco, and I also LOVE good trashy shows," Angie said.
"But the ones I love and that [the viewers] really relate to are the ones where we cry. We like watching lots of documentaries and ABC stuff, and panel type shows, and it's great because all the Gogglebox families have similar opinions, but they're all slightly different too. It's so nice to see at the end of the day we all do come together and feel for the same things."
"Australian reality is a really popular one for us to watch, we just get so excited to watch that kind of stuff," added Yvie.
LISTEN: Need ideas for what to watch next? Catch up on what's happening in the world of TV with The Binge podcast (post continues after audio...)
Speaking of Aussue reality shows, who do the pair think will win arguably the country's most popular reality show on TV at the moment, The Bachelorette?
"To be honest, I don't think any of them deserve it, I love James but I don't know if there's chemistry there," Yvie said.
As for Angie, "I think she'll chose an intruder because they're older, probably that Stu guy the 44-year-old."
You heard it here first folks.
Gogglebox airs Wednesday on Foxtel's Lifestyle and Thursdays on TEN.