When Richie Strahan chose Alex Nation over Nikki Gogan to ride off into the sunset with in The Bachelor finale last week, it's safe to say many Australian viewers were shocked.
And the Goggleboxers were no different.
The Gogglebox families didn't hold back in their reaction to the news, with shouts of 'oh no' the most common response.
Ahead of the big reveal, the families were sure Nikki was going to win. Just like 99.9% of Australia.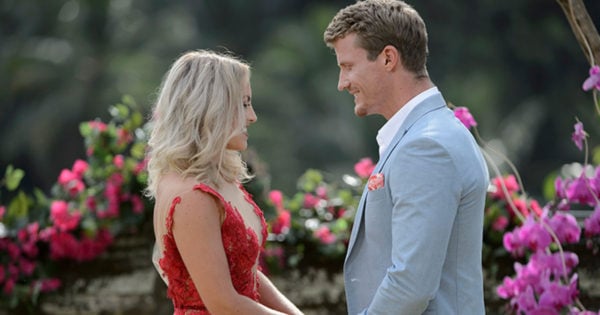 "She lives an hour away, she's gorgeous, she was the first one to say I love you, she was the first one to get a rose. Put your house on it mate," Adam said to Symon.
They had already begun sympathising with Alex.
"Poor Alex, I feel bad for her. She's going to be rejected in front of the whole country," Adam commented.
Listen to Gogglebox stars Tom and Wayne on The Binge, here (post continues after audio):
All the Goggleboxers knew the drill, the first person out of the car is the runner-up - or as Zina puts it "the loser" - so when the foot that slipped out of the limo was revealed to be Nikki's the Goggleboxers were not happy.