It's the show with the most ridiculous premise – people watching a TV show about people watching TV shows.
But since its premiere in 2015, Gogglebox Australia has quickly become one of the most beloved programs on television for its humour, quirk and authenticity.
The finale of season five aired last night, meaning we now have no idea what to do with ourselves on Thursday (or Wednesday if you're lucky enough to have pay TV!) nights.

Listen: Isabelle from Gogglebox spills on what it's really like to be paid to watch TV. Post continues after audio.

To fill that Gogglebox-shaped hole, here are the eight tiny details and interesting trivia facts you might not have noticed or known about your favourite TV stars. Clearly, we're obsessed.
1.Adam and Symon's snazzy socks.
Ok, physio friends Adam and Symon's crazy socks are probably a bit hard to miss but they really stepped up their game this season.
From cheese slices to sausage dogs, the pair have built an enviable collection – and anticipation for viewers intrigued to see what they'll whip out next.
2. Wayne's enviable wine glass collection.
Everyone knows about Tom's steady stream of fancy-looking cocktails, but Wayne's wine glasses are definitely close competition.
He even has one with his name on it. 'Nuff said.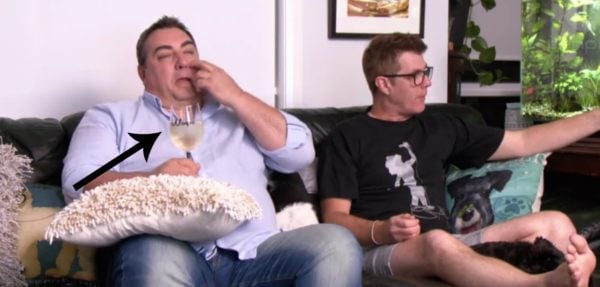 Image: Gogglebox/Channel 10
3. Angie and Yvie's rotating litter of dogs.
Ever noticed flatmates Angie and Yvie always seem to have new faces joining them on their sofa? The pair are foster parents, regularly sharing updates of their dogs on their Facebook page including audience favourite Sissy, an Australian bulldog x boxer.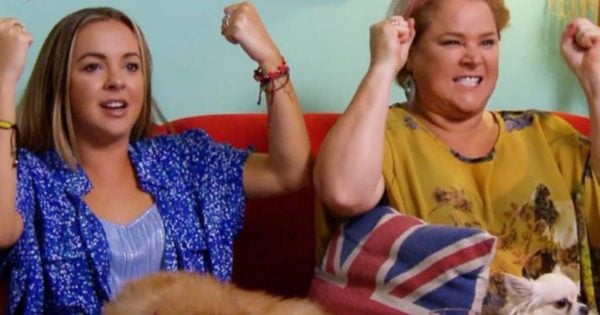 4. Anastasia manages to get around the swearing rule.
Is it a good episode unless Anastasia is dropping Greek swear words like no tomorrow? Probably not.
5. Why the Jackson family is often missing a family member.
The Jackson's oldest son (of six!) Corey has a good reason for being absent on the family sofa from time to time - he now has a family of his own.
The 18 year old welcomed a daughter with his fiancee Tanya just before Christmas.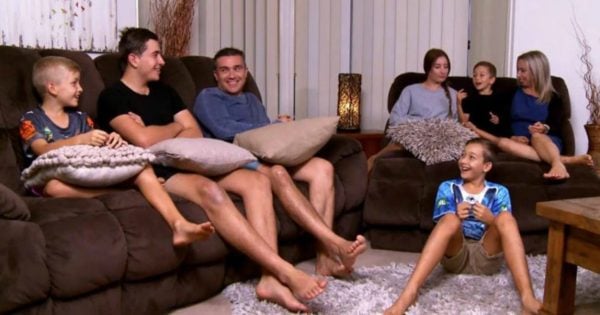 6. Adam comes from reality TV family royalty.
His brother Josh appeared on the 2011 season of The Block and 2014's Reno Rumble with his now wife, Jenna.
7. There's a third housemate who used to live with Angie and Yvie.
While it appears that Angie and Yvie no longer live together (after over three years as housemates) the pair used to (and Yvie continues to) live with a third housemate you didn't see on the sofa - Tom, who has Down Syndrome.
In a recent Facebook post to mark World Down Syndrome Day the pair describe him as "such a massive part of our lives and I simply could not imagine [my] life without him".
In 2014, Angie produced and directed a short film about Tom called 'Tom's Plan' which after receiving subsidy funding was turned into a feature length documentary. It explores creative ways of alternative housing for people with a disability.
8. Holly Dalton's one liners.
Silent but deadly funny. TV GOLD.
Listen: For more TV, check out our podcast The Binge.