Once again John walked out of the hospital a new dad, this time to a beautiful little girl. A precious daughter gaining strength in the NICU, a precious daughter with her mother's lips, her hair, her ears.
But as he returned to the car, he remembered his wife's suitcase was packed in the boot. It would never be used. Nor would the sewing machine she'd been working with to prepare for the baby's birth.
Imogen died in hospital on Friday evening, some 17 hours after her daughter was born via emergency cesarean.
The Gold Coast woman had presented with an ear infection, but ultimately bacteria travelled to her brain causing what doctor's described as "catastrophic brain damage".
As John wrote on Facebook, "Every single plan we had…erased. She was my help, and now she's gone."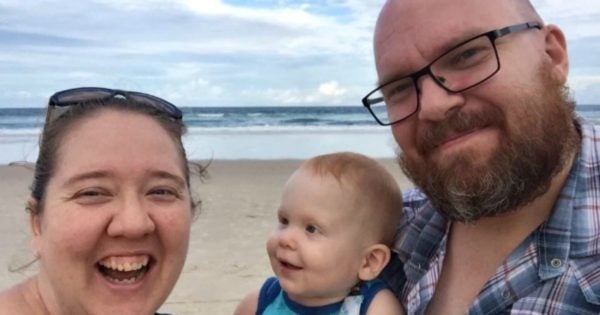 Renèe King, who runs the church playgroup Imogen attended with her 17-month-old son, says the loss of this "lovely, beautiful woman" is already being deeply felt, both by her loved ones and by strangers who have flooded the GoFundMe page she started in aid of John.
"She was always smiling with this light. I don't think I ever saw her where she didn't have these big bright eyes," Renèe said. "She was always so positive and had energy about her. She was just a really beautiful person."
But even more heartbreaking for Renèe, herself a mother to three small children, is knowing that Imogen's children will grow up without knowing such an incredible mother; one who was attentive, selfless, would be "hands and knees, down on their level".
In fact, during the last conversation Renèe had with Imogen, the nail technician was saying how thrilled she was about bringing her daughter into the world, and was already talking about the possibility of a third child.
"That's how excited she was. She was so excited about this little girl," recalled Renèe. "That makes it really hard as well because I can't even believe that she didn't get to hold her. She was already unconscious when they delivered the baby. It's just so, so, so sad."
While John's Christian faith is getting him through - the solidity of which, Renèe says, is "the most incredible thing" she's seen in all this - he's struggling.
"He said, 'Getting my son ready took me twice as long without Imogen.' And I just thought, that's just one tiny little factor, one tiny little part of his life that has been impacted," Renèe said. "There are going to be hundreds of thousands of those daily basic things that partners rely on each other for, and now he'll have to do them by himself."
And so she started the GoFundMe page on Saturday evening. The goal was $25,000, enough, she hoped, to cover funeral expenses and three months without bills. As of Monday afternoon, the donations had climbed beyond $72,000.
The book for anyone going through grief. (Post continues below.)

"So many people make GoFundMe accounts. Everyone wants money all the time. So the fact that we've had such an enormous response... I'm just speechless. It restores faith in the community that people can pitch in when there's such a great need, that they can be that embracing."
Renèe hopes the money will mean this "amazing" man will be able to spend even more time with his children.
"If we can give John that, that would mean everything," she said. "That was my ultimate goal, to allow him to form those attachments with his kids. That wouldn't normally happen - he would be thrown back into work.
"So I really hope we can do that, that we can achieve that for him."
You can contribute to the GoFundMe for John and his children here. Or if you're a business that would like to help, please get in touch with Renee via the Imogen's Light Facebook page here.