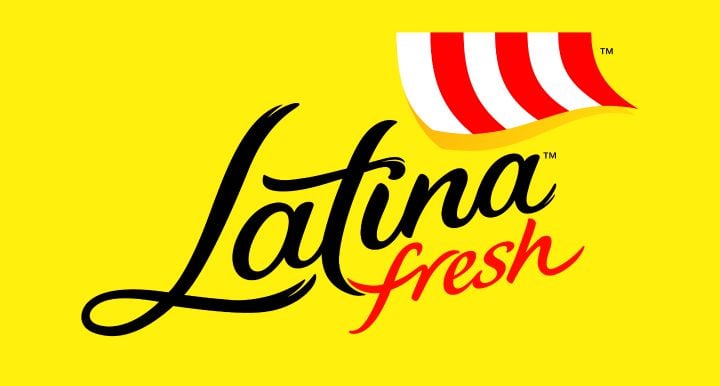 When you have a busy life and a family, you need a few go-to recipes you can either prepare ahead of time or make quickly.
When you add food issues such as gluten intolerance into the mix, it can become even more challenging.
In my family we have gluten intolerance, lactose intolerance, egg and nut allergies and those who don't eat red meat. We're always trying to find meal ideas we can share so we don't have to make separate dishes for everyone.
So we are very excited to have at least one problem solved, that being finding decent gluten free pasta. Phew. Because Latina Fresh has launched a new range of gluten free pasta including beef ravioli, lasagne sheets and fettuccini.
I have three recipes to share with you, one of which makes excellent use of the lasagne sheets, and a couple of others your family will love.
They are all family favourites.
INGREDIENTS:
1 onion, cut into large chunks
2 small carrots, cut roughly
2 sticks celery, cut roughly
1 clove of garlic
Olive oil
1 eggplant, diced
500g lean beef mince
¼ cup red wine
Sea salt
Freshly ground black pepper
Sprig of rosemary, chopped
400g can cherry tomatoes
700g tomato passata
Latina Fresh gluten free lasagne sheets
200g crème fraiche
1/3 cup parmesan cheese, grated
150g mozzarella cheese or bocconcini cheese, torn
METHOD:
1. Dice onion, carrot, celery and garlic in a food processor. Heat some olive oil in a large saucepan over medium/low heat and fry onion mix for at least 15 minutes, stirring occasionally, until golden. Add eggplant and cook for a further 4 minutes.
2. Add beef mince to pan and cook beef thoroughly. Continue to cook for a further 5 minutes, until the beef has browned.
3. Add red wine to pan and cook until evaporated. Season with salt and pepper and add rosemary. Add cherry tomatoes and passata and cook, covered, over low heat for 30 minutes, stirring occasionally.
4. Preheat oven to 180°C (160° fan forced).
5. Allow the sauce for your lasagne to cool a little to make it easier to work with.  Layer the sauce and Latina Fresh lasagne sheets in a baking dish, starting and finishing with a sauce layer. Blend crème fraiche with 2 tablespoons of water to create a white sauce, and spoon over top layer of meat sauce. Scatter with parmesan cheese. Place mozzarella cheese pieces on top.
6. Cover with baking paper and foil and bake in the preheated oven for 30 minutes.  Remove paper and foil and continue to bake lasagne for a further 10 minutes or until the top is golden. Remove from oven and allow to stand for 10 minutes before serving.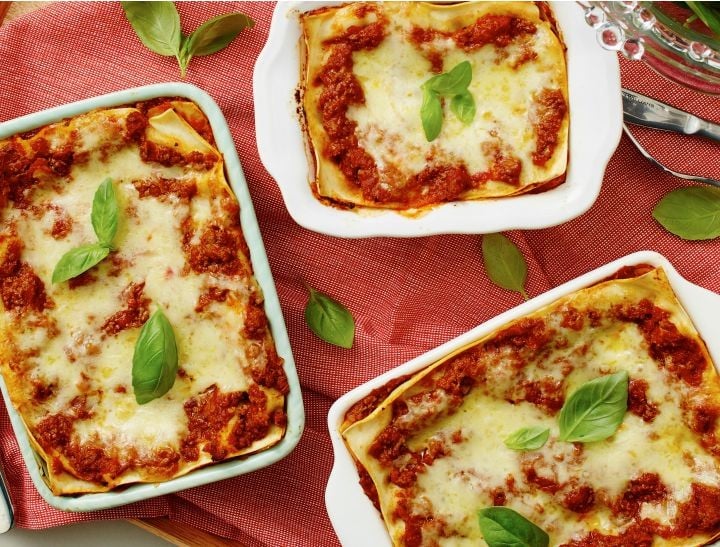 INGREDIENTS:
2.5L (10 cups) chicken stock
40g butter
125ml olive oil
2 brown onions
880g Arborio risotto rice
1 ½ tbsp fresh thyme
125ml dry white wine
6 chicken thighs, diced
200g button mushrooms
4 cloves garlic, crushed
1 ½ cups grated parmesan
METHOD:
1. Bring the stock just to the boil in a large saucepan. Reduce heat and hold at a gentle simmer.
2. Heat butter and 2 tablespoons of oil in a heavy-based stockpot or large flameproof casserole dish over medium heat. Add the onion. Cook, stirring, for 5 minutes or until soft and translucent but not coloured. Add the rice and 1 tablespoon of thyme. Cook, stirring, for 1 minute or until the grains appear slightly glassy.
3. Add the wine to the rice mixture and cook, stirring, until the liquid is absorbed. Add a ladleful (about 125ml/1/2 cup) of the simmering stock to the rice and stir constantly with a wooden spoon until the liquid is absorbed. Continue adding the stock mixture, a ladleful at a time, stirring constantly and allowing the liquid to be absorbed before adding the next ladleful, for 20-30 minutes or until the rice is tender yet firm to the bite and the risotto is creamy.
4. Heat remaining oil in a large frying pan over high heat. Add the chicken and stir-fry for 5 minutes or until chicken just starts to brown. Add the mushroom and garlic. Cook for 2 minutes.
5. Add the chicken mixture, parmesan and remaining thyme to the risotto and combine. Season with salt and pepper to serve.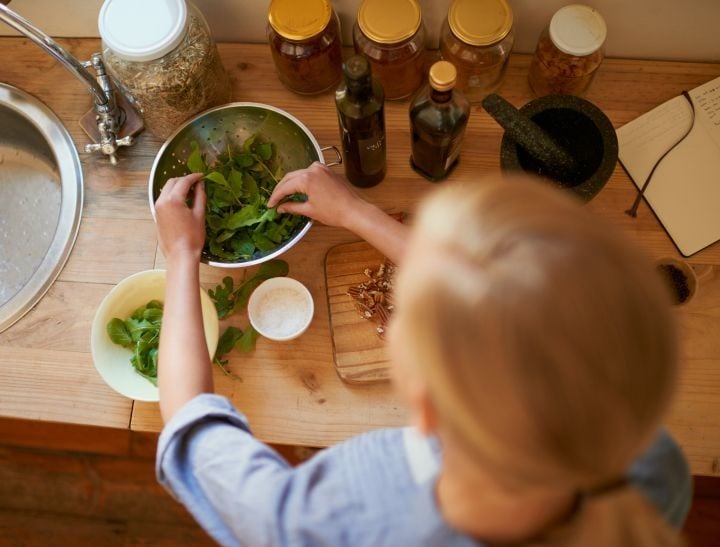 INGREDIENTS:
1 cup white rice flour
1 1/2 teaspoons chilli powder
1 1/2 teaspoons paprika
1/2 teaspoon ground cumin
1/16 teaspoon cayenne pepper (for heat)
1 teaspoon salt
1/8 teaspoon onion powder
1/8 teaspoon garlic powder
2 large egg yolks
3/4 cup gluten-free beer
Canola oil, for deep-frying
1/3 cup gluten free mayonnaise
2/3 cup gluten free sour cream
2 tbsp fresh lemon juice
2 tbsp water
Salt and freshly ground black pepper
Oil, for frying
900 grams skinned white fish, boneless
Gluten free corn tortillas
2 cups shredded cabbage
Pickled jalapenos, chopped (optional)
Chopped coriander, for garnish
METHOD:
1. In a bowl, whisk together rice flour, chilli powder, paprika, cayenne pepper, salt, onion powder, and garlic powder.
2. Add and whisk in egg yolks and beer until a thoroughly combined. Set aside for 15 minutes.
3. In a large, heavy pan preheat generous amount of oil.
4. Dip a few pieces of fish at a time into the batter and, optionally, dredge in breadcrumbs.
5. Fry in the heated oil until golden brown, 3 to 6 minutes.
6. While the fish is frying, make the coleslaw.
7. Place all ingredients on the centre of the table and allow guests to assemble.
Still looking for inspiration? Watch how to make this quick and easy recipe using Latina Fresh Gluten Free pasta.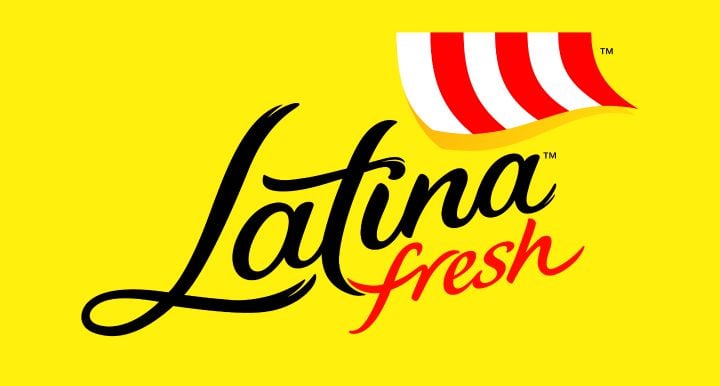 Australia's favourite fresh pasta, Latina ™ Fresh is now available in Gluten Free. It tastes, feels and looks as good as the regular fresh pasta and is available in tasty new range including Beef Ravioli, Lasagne sheets and Fettuccine. Head to your supermarket chiller today to try some for yourself.
For more delicious recipe ideas for dinner tonight, including gluten free inspiration, go to www.plateful.com.au/explore/dietary-needs/gluten-free