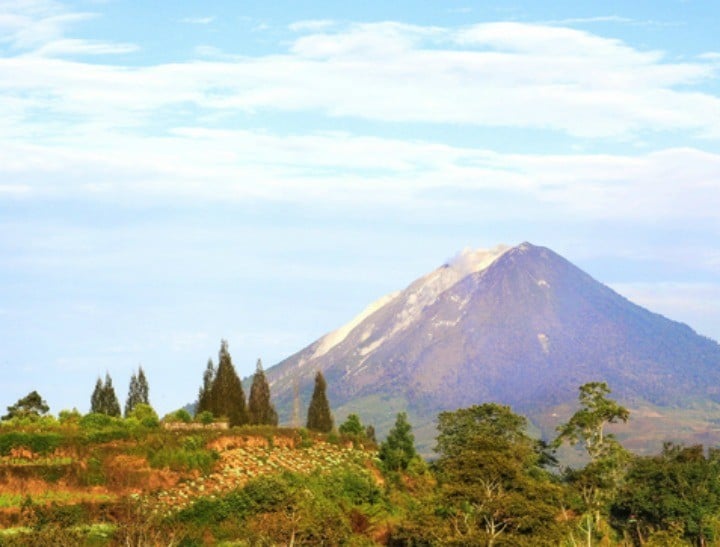 By Matthew Blackett, Coventry University
It is an awe-inspiring and terrifying sight, a volcano spewing lava and millions of tons of ash and rock into a blackened sky. Mexico's "fire volcano", Mount Colima, has recently begun erupting… again, a reminder of the spectacularly destructive forces that can be unleashed by nature.
But dramatic as online footage of this Mexican volcano is, the eruption is a mere trifle compared to some of the little-known natural disasters that have been predicted. From supervolcanoes to towering megatsunamis, these catastrophic events could affect millions – and occur sooner than you think.
1. Indonesia's forgotten supervolcano
The threat posed to the world by the Yellowstone supervolcano in the United States is well documented. Less well-known (or acknowledged), however, is that it is just one of many posing a catastrophic threat to the planet.
The Lake Toba supervolcano, on the Indonesian island of Sumatra, is currently home to the largest volcanic lake on Earth, formed 74,000 years ago when it last blew in the biggest eruption for 25 million years. It is estimated that around 2,800 cubic kilometres of volcanic ash and lava were thrown into the atmosphere, 12% more than was ejected by the last Yellowstone eruption of 2.2m years ago.
And it may be about to erupt again. As with any super-eruption, the vast quantities of ash and sulphur dioxide produced can have a devastating effect on the global climate. But a number of factors make the prospect of a Toba super-eruption much more intimidating than one at Yellowstone.
Toba is located on the densely populated island of Sumatra, home to over 50m vulnerable people, and is only 40km from the Indian Ocean in which catastrophic tsunamis (of which we have recent experience) would certainly be generated. Additionally, in recent months, reports of volcanic gases and heating of the ground surface have led to suggestions that the sleeping giant may again be waking up.