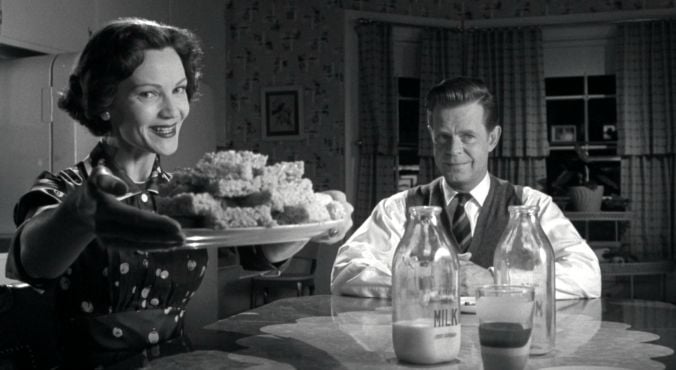 Image via New Line Cinema.
The wacky sex tips and relationship advice are arguably some of the most hilarious pages in magazines, but the latest advice from Glamour magazine (the US publication) has got people talking; for all the wrong reasons.
RELATED: The 3 modern sex "rules" we all need to stop following
The magazine recently shared an online article titled "13 Little Things That Can Make a Man Fall Hard For You". Sweet and harmless right? Wrong.
Notable tips include:
"Stocking the fridge with his favorite drinks. Bonus points: Bring him back to his fraternity days by handing him a cold one as he steps out of the shower."
"Answering the door in a negligée—or, better yet, naked."
"Giving him a massage—happy ending completely optional. In fact, a foot rub works just fine."
"Letting him help solve your petty work problem. Many men don't do gossip, but they do like to fix things."
There doesn't seem to be even a hint of sarcasm (although we desperately wanted it to) present in this archaic advice that stops just short of giving "your man" the exclusive rights to your soul.
Understandably, people are pretty p*ssed of about it. (Post continues after gallery.)
Social Media responds to Glamour's advice
This is a magazine thousands of women look to for advice, one that claims to empower and celebrate women. Amy Schumer is their current cover girl, a woman known for championing loving yourself and challenging outdated perceptions of women.
RELATED: Amy Schumer on confidence: "I have a belly. And I have cellulite. And I still deserve love."
So it's disappointing to see an article that reduces women to submissive sex robots.
Don't get me wrong – of course it's nice to do caring things for the person you love, but this article goes beyond that.
It suggests that unless you are subservient and willing to essentially do whatever you're told, you've got no chance at love. That if you don't allow your man to solve your silly work problem or jump out of bed post-sex to make him a snack, you're not the "cool", laid-back woman that all men love.