There's something very unusual about the latest season of Girls.
Season Six has arguably been the best yet. The ratings are high, sitting at 91 per cent on Rotten Tomatoes, and the content is bold.
Something has changed and I think I know what it is: they've added strangers.
Not any kind of strangers but wise strangers. Characters who appear out of nowhere to impart wisdom upon the central cast.
They're everywhere.

Have you been watching the latest season? We decontruct 'that big' episode in this special podcast. Post continues after audio.

The most recent episode, Episode Seven, held two examples of where this has occurred.
There was the dancer who convinced Elijah to stay at his audition; and there was the man who forced Marnie to accept she had a problem with blaming others.
Past episodes, like Episode Two, saw Hannah receive insight and a complimentary teapot from the mysterious owner of an antique shop.
It's almost as though when a character is facing a crisis: a stranger appears.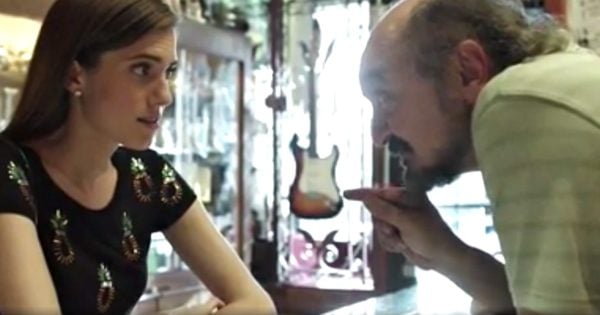 Let's start at the most recent episode, Episode Seven. Using only her own words against her, the man in the pawn shop is able to reveal flaws central to Marnie's personality.
Her usual protective 'woe is me' shell is cracked and Marnie is forced to consider that her problems may just be her own fault.
Elijah, running from the audition, similarly finds a character that offers some hard truths about his situation.
Singing at the bottom of a stairwell, this stranger convinces him to use his pain as a weapon, not a hindrance.