Hitting puberty can be upsetting and confusing enough for girls entering high school, but it was a completely different experience for Emily McAuliffe, who had her first period when she was just four years old.
Emily, now aged five and a half, has been diagnosed with Central Precocious Puberty, which means this little girl is developing before her time.
For her parents, Tam and Matt, it's heartbreaking. Their daughter hasn't reached primary school yet, but is already the size of an eight-year-old and has developed breasts.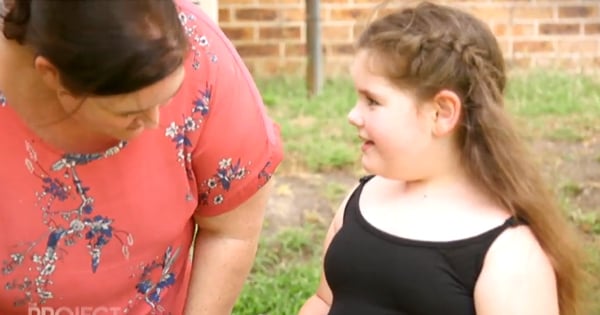 "What's heartbreaking is she's a five-year-old girl, and she just wants to do what other five-year-olds do, but she can't," Matt said while appearing on The Project on Wednesday night.
"It's hard when you can see that things are tough for her... you just try to make the best of a bad situation."
"She has missed out on massive parts of her childhood because we can't throw her around, she's 45kg, she's four foot six," Tam added.
Mum Tam Dover said their daughter has been bullied while at daycare, which makes her fearful of what Emily might face at primary school next year.
"It breaks my heart when she comes up to me and says 'Daddy, am I ugly?'," Matt says.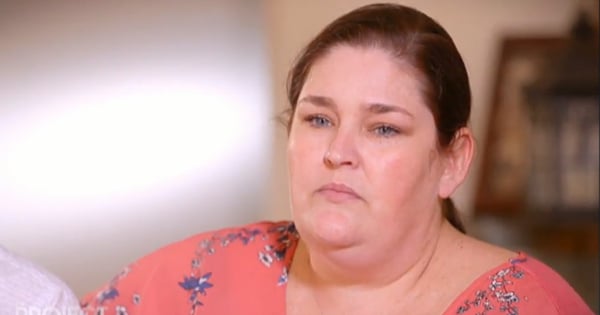 In a GoFundMe page, the parents explain that signs that Emily was different began surfacing when she was a few weeks old.
In her fourth week of life, Emily grew four centimetres in a week and by four months old she was the size on a one-year-old.
At about two years old they noticed she had breast buds, body odour and some pubic hair. And so began the first of many specialist medical appointments as the family tried to determine what was causing such rapid development in the little girl.
At four years old, with her first period a clear sign she had hit puberty too soon, she was diagnosed with Central Precocious Puberty and congenital adrenal hyperplasia along with Addison's Disease, which explained her muscle weakness.
Now, the family is undergoing treatment, which involves inducing menopause through hormone replacement therapy via three-monthly injections, which cost $1455 a pop and results in symptoms like chest pains, lethargy, high temperatures, nausea, hot flushes and irritability.
Her parents hope to continue this treatment until she is old enough to experience puberty with her peers.
In the meantime, they are working on building up strength in her muscles and have been able to buy equipment to help do this through donations made to their GoFundMe page.
"We've also been able to make up rent and pay our bills which we were struggling with as we've had so much time off looking after Emily," Tam shared on the page.
If you would like to help Tam, Matt and Emily you can donate to their GoFundMe page. You can also follow Emily's journey on her Emily's Space Facebook page.