A 10-year-old girl has made her plea to let love live on, after her school tried to impose a ban on relationships between primary school students.
Melbourne year five student, Una, has written a letter straight from the heart – asking her school to let them "practice" love.
Una's letter, which was re-published on her mother, author Penni Russon's blog, asks her school to let them "practice handling big emotions".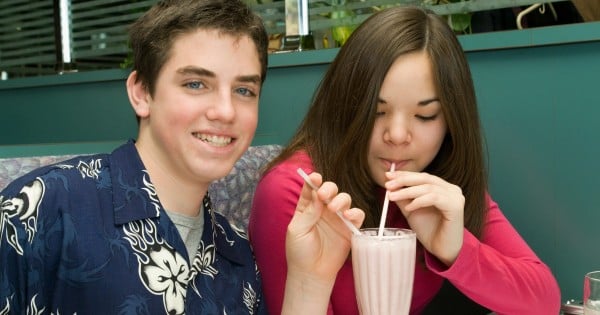 'Love is a normal part of life.' Image via iStock.
The 10-year-old wrote: "When we are older, we will become more serious about it, but in the meantime, we should practice."
Her second reason, she wrote, was that "love, of course, a normal part of life!"
"Almost every human being loves someone at the very least once in their life! And so children at (my) primary do too!" she wrote.
The letter was prompted by an edict from a teacher at the school who told the children they were too young for such relationships and shouldn't display affection at school.
Her mum Penni reproduced it, writing of her fear that by banning relationships students may not "feel safe" to access support and guidance from teachers and school leaders "in matters of interpersonal relationships."
While the school has now told The Herald Sun that it didn't have any formal ruling on relationships, it has sparked a wider debate on what's appropriate in terms of puppy love.
"There is no ban on children having boyfriends and ­girlfriends, and we know schoolyard romances are a part of growing up," the principal said.
"At our school, we speak to our students about behaving respectfully towards each other and behaving appropriately in the schoolyard."
Last year a Victorian school made headlines when it banned 'hugging' in the playground.. Post continues after video..