The release of the Gilmore Girls reboot sent thousands of fans into lock down over weekend, as they eagerly raced back to Stars Hollow.
Binging a series is always an excellent weekend indulgence, but sometimes, somewhere in between the fifth and sixth hour, you may start to miss a few things.
We're compiled the top eight hidden messages you may have missed in Gilmore Girls: A Year In The Life.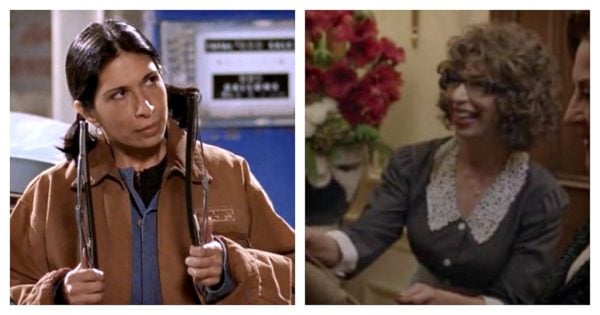 A Not-So Maiden Casting
Rose Abdoo, the actress who plays Emily's maid, Berta, also plays beloved car mechanic Gypsy from the original serie. If you didn't notice, you would be forgiven, because it's amazing what a curly wig can do.
Rosie and Laura talk about the new season on The Binge
Picture This
Framed pictures seen throughout the Gilmore home contain production stills or scenes from past seasons. Keep a look out for those classic moments.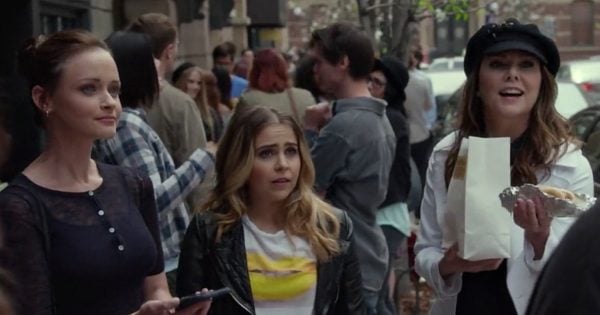 An Unofficial Parenthood Reunion
Three actors who worked alongside Lauren Graham in her other beloved TV series, Parenthood, made cameos in the revived series. Jason Ritter and Peter Krause appeared as two park rangers while Mae Whitman, appeared as a woman who meets Lorelai in New York.
In Parenthood, Rittler was cast as Graham's fiance while Krause, who is her real-life partner, played one of her brothers. Whitman played her daughter, Amber. Talk about a family reunion!
Listen as Rosie Waterland gives you a special recap of the new series. Post continues after audio.
The Return Of The Rabbi
First introduced in Season Two when Lorelai tucks Rory's dinner money beneath it, the dancing rabbi doll appears in the new series during the first look at the old house.
Gilmore Guys
Kevin T. Porter and Demi Adejuyigbe are the chatty brains behind the famous Gilmore Guys podcast, and another 'easter egg' addition to the revival's cast. Porter and Adejuyigbe made a very sneaky cameo during the reboot as extras sitting at the back of the Dragonfly Inn.
Luke and Lorelai during Liz's wedding. (Source: YouTube/Warner Bros.)[/img_caption]
A Familiar Melody
The song that plays in the background of Lorelai and Luke's wedding montage in the new series is the same track that was playing when they danced at Liz's wedding.
It's called "Reflecting Lights" and is sung by Sam Phillips.
Love The Gilmore Girls so much you just can't help but talk about them? Us too. Listen to our podcast below for the full run-down.
For all the shows and books mentioned in the Mamamia Podcast Network, visit apple.co/mamamia .