On November 25, we can finally follow where Netflix leads, back to Stars Hollow for Gilmore Girls: A Year in the Life.
Since the four-part revival was announced earlier this year, we've seen a lot of behind the scenes photos and a few sneak peeks of what life has been like for our favourite Gilmore girls Lorelai (Lauren Graham), Rory (Alexis Bledel), and Emily (Kelly Bishop).
But today Netflix gave Gilmore Girls fans what they really want.
Jess Mariano…in Luke's Diner…wearing a leather jacket.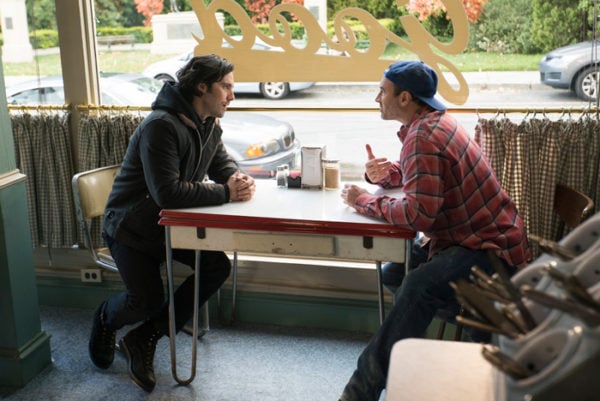 Team Jess forever!
According to Netflix, the particularly bad boy dreamboat image of Jess (Milo Ventimiglia) back in Stars Hollow with his Uncle Luke (Scott Patterson), comes from the FALL episode, which is also the last episode of the four 90-minute episodes of the revival.
What that means for all the Team Jess fans out there remains to be seen.
The way Jess and Luke are arguing in the image seems to imply that their relationship is as contentious as ever, which makes us wonder if Jess has changed at all.
Hopefully he's still the brooding, too intelligent for his own good, bad boy with a book tucked in his back pocket and the perfect sarcastic comeback for everything.
via GIPHY
But maybe, hopefully, he's lost the obsession with sleight of hand magic.
That ruined some of his mystique.
Regardless, Team Jess lives on and we can't wait to see what he's been up to in the last nine years.
Gilmore Girls: A Year in the Life premieres on Netflix worldwide on November 25.