There's a new ghost pic doing the rounds. And it's very, very creepy.
Northern Ireland teenager Bethany Harvey recently took a Snapchat selfie of herself, her sister and her young nephew.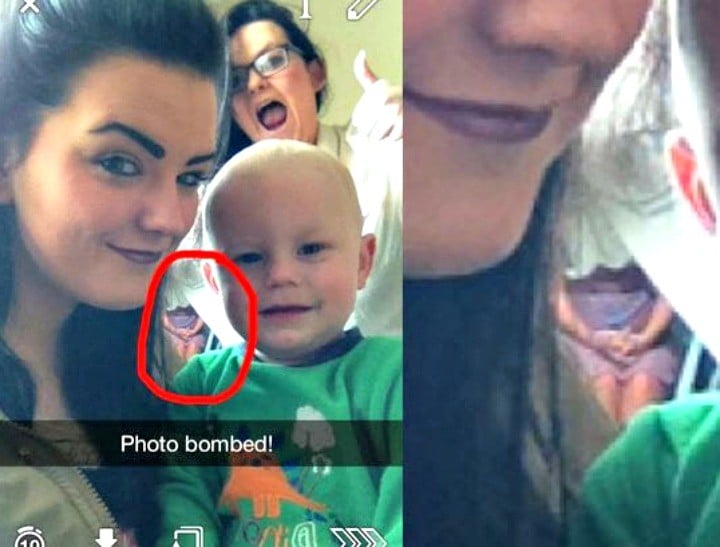 But after taking the picture she noticed what appears to be the torso of a young girl in the background. WHAT! The apparition is seated and wearing a purple outfit with her hands folded in her lap. WHAT! And now for the spooky part – Harvey swears there was no one else in the room when the photo was taken. WHAT!
She told the Daily Mirror, "I was taking a picture of my nephew and I, but my sister jumped into the background so I captioned the picture 'photo bombed!'."
"A friend of mine came to my house that night and pointed out what looks to be a woman with her hands folded on her knees in the background, baring in mind the picture was taken facing the living room door. Although we can't see the face of the figure the rest of it is as clear as day. There was nobody else in the living room at the time, except for the ghost girl in the purple dress," she explained.
Harvey said she is now (understandably) too scared to go into the living room at night in case the girl in purple makes another appearance. But this is not the only ghost story to haunt us. Another "ghost" photobomber also made headlines after this creepy picture emerged: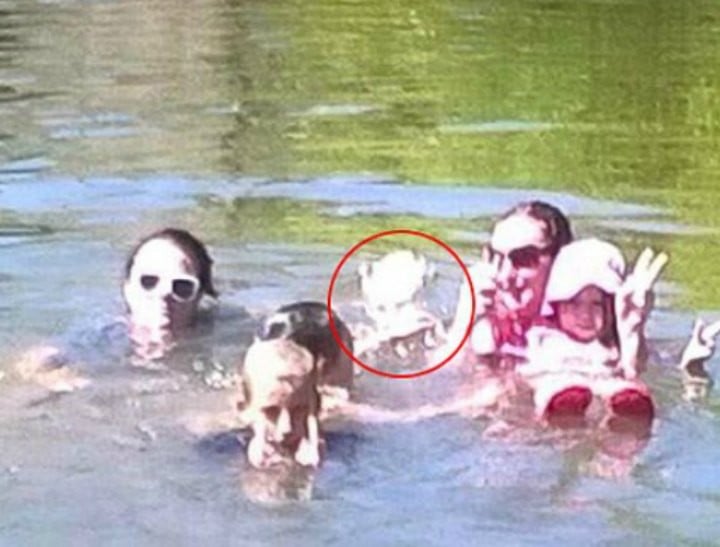 Friends Jessie Lu and Kim Davison were swimming with their three children at Murphy's Hole in the Lockyer River, south-east Queensland, when a photo captured what looked like a ghost girl behind them.
They later discovered 13-year-old Doreen O'Sullivan drowned in the exact same spot a century earlier.
What is happening? Why are spirits taking over our photos and social media now? Perhaps we will never know.
But we definitely won't be sleeping tonight.
What do you think of these ghost pictures? Are you a believer?