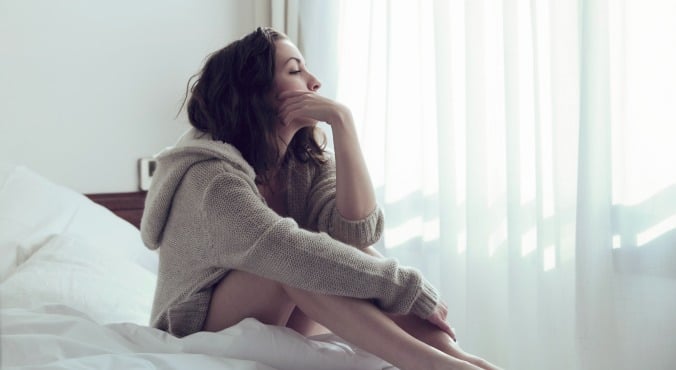 Image: iStock. 
By Chelsea Hottovy for Your Tango.
I'm often told that I'd make a good mother.
Depending on my relationship with the person making this wildly incorrect statement, I have one of two reactions: either a small, insincere smile and a "mmmm" response that does not invite further discussion, or a hearty laugh followed by a firm "NO."
Don't get me wrong: I love kids. They're hilarious, they're adorable, and I (mostly) enjoy spending time with them. But without a doubt, I do not want them. And here's why.
I don't want to worry about nappy rash and "tummy time" and I don't want to know what colic is.
I don't want to put a kid on a kindergarten waiting list and I don't want to decide between public and private education. I don't want to coordinate basketball practice drop-off with ballet lessons pick-up, I don't want to help with trigonometry and darling, I will not deal with your teenage angst because you best believe I invented that sh*t.
Shelly Horton and Dr Ginny discuss how birth affects a woman's bladder. (Post continues after video.)
I'd rather have bamboo shoots shoved under my fingernails than try to figure out how to pay for my child's university education while I still owe roughly twelve kajillion dollars for my own degree. I've more than once done something "just to tell the grandkids about it," but I never actually planned on there being any grandkids.
It amuses me to tell people I don't want children because no one ever quite knows how to respond. I've gotten "Well, when you meet the right guy, you'll change your mind," which is basically suggesting I'm incapable of making decisions regarding my own life without consulting a nameless, faceless FutureMan and is, by the way, astonishingly offensive.
Others immediately ask what I do for a living, as though my employer holds the key to my womb and has locked it up until I retire. I don't really consider myself a career-minded kind of girl; I've always worked to live, not lived to work.
Two mothers have actually said to me, "I didn't know what love was before having a baby. You should reconsider." I'm happy they're happy now but "not knowing love before kids" is one of the most acutely sad things I've ever heard.
Occasionally, I get a hearty "F*ck Yeah!" from like-minded women, some of whom will eventually become mothers and some of whom will not. I appreciate the support.