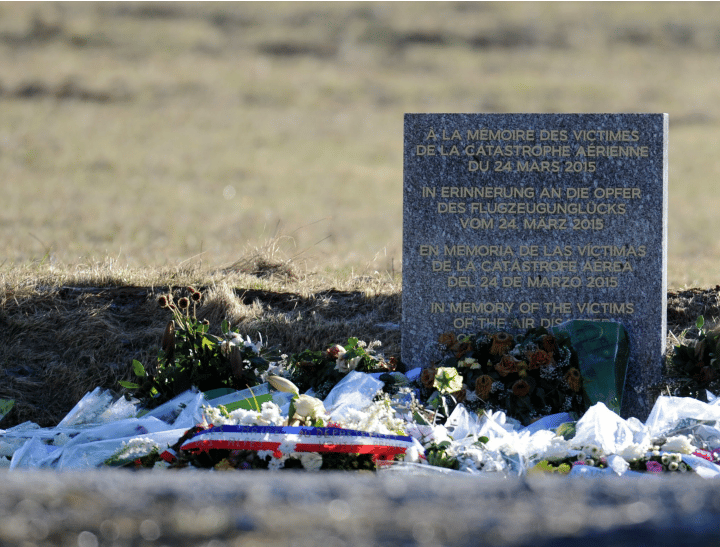 We've rounded up all the latest stories from Australia and around the world – so you don't have to go searching.

1. Video has emerged showing cabin chaos on Germanwings flight.
A video has emerged purportedly showing chaos inside the cabin of the crashed Germanwings flight.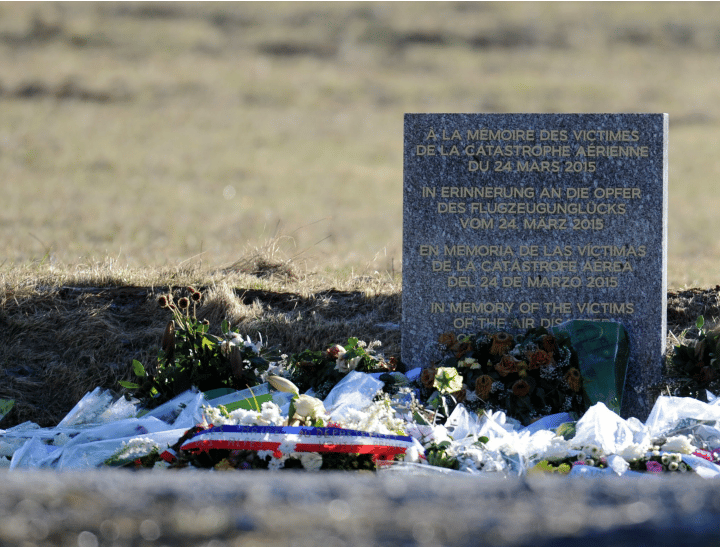 French magazine Paris Match and German Tabloid newspaper Bild said the authenticity of the video is "unquestionable". It is reported that it had been retrieved from the wreckage of last Tuesday's crash by "a source close to the inquiry".
The Times reports that the video allegedly shows horrific scenes filmed on a passenger or crew member's mobile phone of chaos and passengers screaming "my God" in several languages.
French authorities initially denied the existence of the video, but they are now calling on anyone in possession of such a film to "hand it over to investigators".
A Paris Match spokesman told The Telegraph: "We have checked and rechecked its authenticity."
The phone which filmed the scene did not survived the crash, but the memory card on which it was stored had according to both Bild and Paris Match
"Its provenance leaves no room for doubt."
The video is said to leave no doubt that the passengers knew their fate.
Bild reports there are audible screams, with cries of "my god" in several languages.
Filmed from towards the back of the plane the cabin is jolted to the side, which would seem to be the moment when the aircraft's right wing clipped the mountainside. There are loud metallic bags – which could be the pilot, Patrick Sonderheimer trying to get into the cockpit. The Times reports that once more there are desperate cries and then the video ends.

2. Woman to appear in court today over boy and grandmother murders.
A Chinese national, Cai Liao, 45, will appear in Melbourne Magistrates Court today facing two counts of murder and one count each of intentionally causing injury and false imprisonment after the deaths of four-year-old Alistair Mach and his 60-year-old grandmother Mai Mach on Tuesday.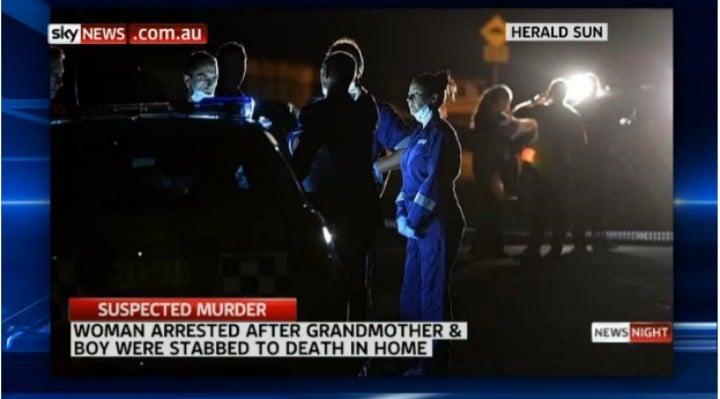 It is alleged that Cai Liao was in a relationship with Mai Mach's husband Brian Mach who had recently called off their relationship.
News Limited report that Liao bound and gagged Brian Mach, aged 61, and then killed four-year-old Alistair as he lay in bed on Tuesday morning with a pair of garden shears.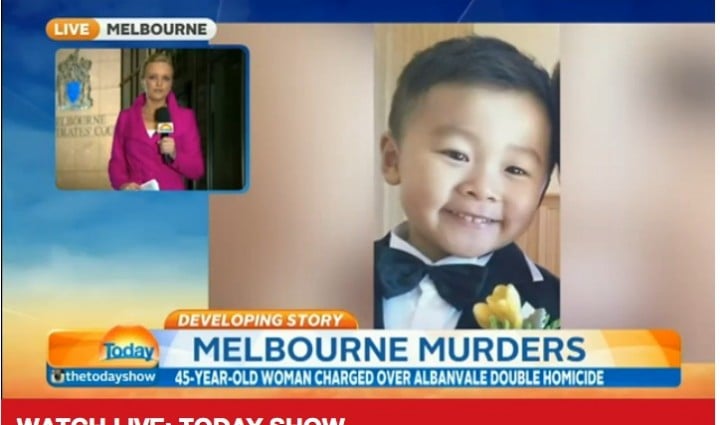 She then waited for 10 hours for Mai Mach to get home from work before attacking and stabbing her to death in the backyard.
Detective Leading Senior Constable Tony Harwood said Liao allegedly stabbed four-year old Alistair as he lay in bed, causing severe head and neck injuries. A post-mortem revealed he had suffered more than 18 stab and slash wounds including defence wounds.
Det Sen Con Harwood said the alleged killing was witnessed by a neighbour, who called police.

3. Belle Gibson avoids police charges over fraud claims.
Belle Gibson, the social media entrepreneur and "wellness" blogger will reportedly not face charges after police dropped an investigation into her business empire.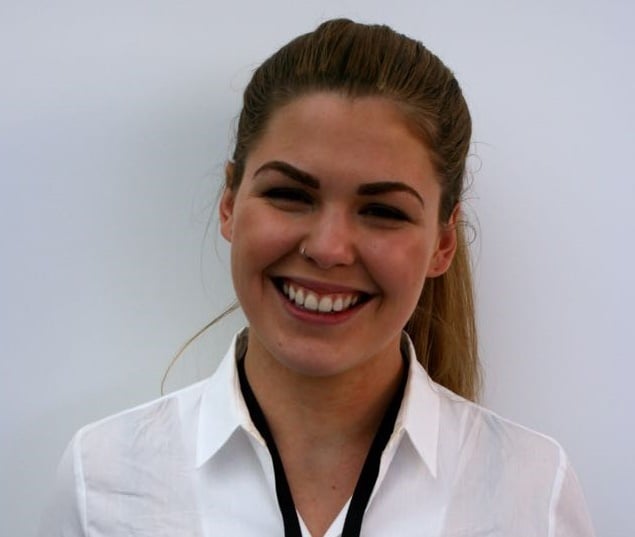 Gibson was the centre of controversy following doubts around the authenticity of her claims that she had terminal cancer. Ms Gibson had also credited a diet of natural food as a cure to her cancer.
Further questions were raised when it was revealed that the 23-year-old had also been soliciting donations for charities but that her company had never passed on the almost $300,000 raised. Instead, it was reported that Ms Gibson may have flown to the US on a business class ticket to avoid confronting questions.
News Limited reports that detectives looked into criminal charges including obtaining financial advantage by deception but decided not to go ahead.
"The matter was assessed by Victoria Police and we are not investigating it," police spokesman Kris Hamilton told The Herald Sun.
Consumer Affairs Victoria will now determine if any offences were committed.

4. Police treat disappearance of Grafton teacher as homicide.
Two weeks after the disappearance of a NSW teacher Sharon Edwards, police have said they are treating the case as homicide.
Mrs Edwards went missing on March 14 after visiting a local pub, the Good Intent Hotel in Grafton with friends.
Her car was later found at her home but she hasn't been seen since.
Her disappearance was reported to police when she failed to turn up to work at Coutts Crossing Public School two days later.
Her husband, who often lives in a separate  residene spoke to the media yesterday.
"Someone out there must know some little something. I'm just racking my brains out going crazy." John Edwards said.
5. Man to stand trial over murder of seven-year old boy.
A man accused of abusing and murdering his girlfriend's seven-year-old son and blaming the death on an accidental fall from a pogo stick, will face trial in October.
The 31-year old man, a Christian hip-hop music producer, and the boy's mother are said to be the perpetrators of prolonged abuse against the boy.
On Tuesday the boy's mother plea pleaded guilty to manslaughter.
Yesterday the man appeared in the NSW Supreme Court and heard he will face charges of murder, common assault, inciting an act of indecency and assault occasioning actual bodily harm-in fact.
For more read this post here.
 6. Federal Government backbencher Zed Seselja argues more defence positions needed, not less, in wake of job cut announcement.
By Susan McDonald
A Federal Government backbencher has argued more jobs will be needed in Defence in the future, not less, following the announcement that about 1,000 jobs are set to be axed.
ACT Liberal senator Zed Seselja said he is concerned about further job losses and is having a briefing with the Defence Department secretary Dennis Richardson today.
The Coalition went to the last election promising to increase the defence budget to 2 per cent of GDP within a decade.
Senator Seselja wants to know how the promise fits with the cutbacks.
"As we grow the defence budget, as we grow defence capacity, that will need to be supported and of course that will need more public servants over time," Senator Seselja said.
"I want to get to the bottom of where those numbers sit."
Defence Minister Kevin Andrews flagged the job cuts yesterday when he announced sweeping changes to Defence, including the abolition of the Defence Materiel Organisation.
Mr Andrews released a major review which found "waste, inefficiency and rework are palpable" in the organisation.
The First Principles review suggested 1,000 public servants were not needed with the restructure and another 650 middle managers should go.
Mr Andrews told reporters the "net outcome" would be the loss of around 1,000 jobs.
A version of this story was originally published on ABC.
7. Jacqui Lambie hurt by Clive Palmer's plans to sue her.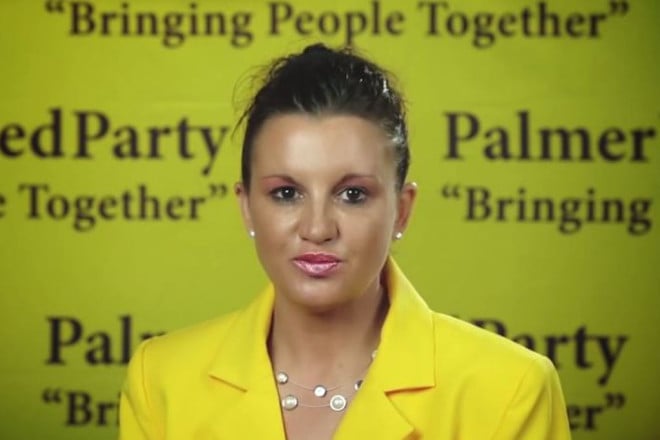 Tasmanian Senator Jacqui Lambie has said that the Palmer United Party's plans to sue her are "hurtful".
Yesterday the Palmer United Party (PUP) announced it would sue Senator Lambie and Senator Glenn Lazarus to recoup $9 million it spent on their election campaigns.
Senator Lambie told the ABC "If there was one thing he did promise me when I left the party last year, when we had a one-on-one, was that he'd never sue me and that he was very proud of the way I'd performed and he was grateful to have had me as a part of his party."

 8. Dozens of greyhound carcasses found in bushland near Bundaberg.
By ABC
Police and the RSPCA are investigating the discovery of at least 55 greyhound carcasses in bushland near Bundaberg in Queensland's south-east.
The investigation is being conducted as part of the Joint Greyhound Racing Inquiry Task Force.
RSPCA Bundaberg received initial information that the carcasses had been found in the Coonarr area.
They were found off Coonarr Road in the Vera Scarth-Johnson Wildflower Reserve, near the Kinkuna National Park.
The RSPCA attended the scene where at least 55 greyhound carcasses were found in various states of decomposition.
RSPCA spokesman Michael Beatty said the remains were "pretty decomposed".
"From what I understand from our inspector on the scene, those bodies were probably dumped there well before the Four Corners program went to air," Mr Beatty said.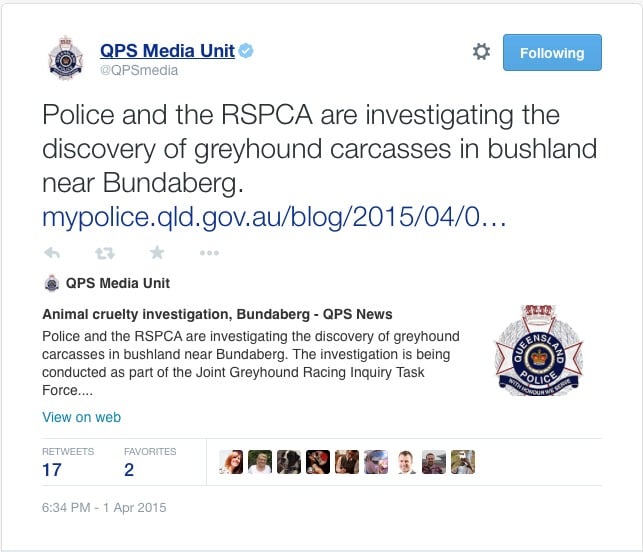 He said autopsies would be done on the bodies to determine how they were killed.
Queensland Police Minister Jo-Ann Miller said the news was deeply distressing.
"This animal cruelty is totally sickening and I want to make it clear that it won't be tolerated in Queensland," she told the ABC.
"The police have been working closely with the RSPCA … and we support the police and the RSPCA 100 per cent in their effort."
The joint Queensland Police Service and RSPCA task force, which was established to investigate allegations of animal cruelty in the greyhound racing industry, has been probing allegations of 'live baiting' since they were exposed by the ABC's Four Corners program in February.
The program showed footage of live piglets, possums and rabbits being fixed to mechanical lures and catapulted around tracks while being chased, and eventually killed, by dogs.
In Queensland, a total of 36 trainers have been suspended over the scandal, with six now issued with life bans from dog racing.
The Queensland Government has also ordered an independent review of the state's greyhound industry to investigate how the practice went undetected.
A version of this story was originally published on ABC.

9. Inquest into death of two-year old Darcy Atkinson.
An inquest into the death of a two-year old boy on the NSW Central Coast in December 2012 has heard that the little boy may have been "caned or whipped" or "boxed on the ears more than once" before he died from an inflicted blow to the head.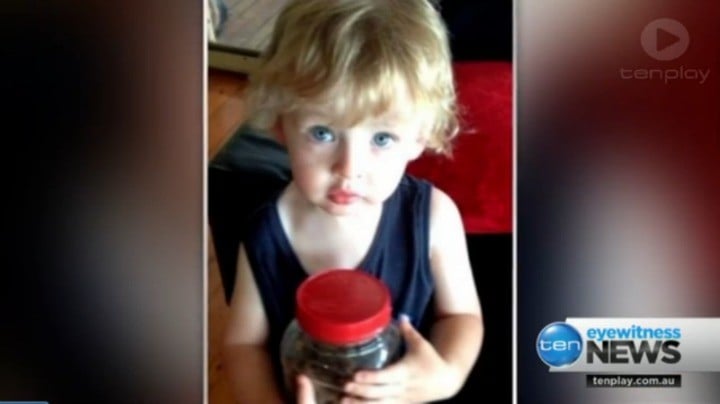 The inquest is examining how the little boy who had allegedly been paddleboarding with his mother's boyfriend died.
A doctor told the inquest yesterday that the child had been 'caned or whipped' before he died.
The doctor, Barry Wilkins described the injuries sustained as 'tram-line marks', and said he had only ever seen them inflicted on a child.
News Limited reports that Dr Wilkins said Darcy was covered in the lines, usually sustained from being caned or whipped, and had bad bruising around his ears which appeared to be infected.
"There is no doubt in my mind … that Darcy had been assaulted physically at some stage in the day before he presented," he told the court.

 10. British couple first to have same sex prison marriage.
Two prisoners in the UK have married in the first ever same-sex prison wedding in the UK.
The two men, one a convicted paedophile and the other serving a life sentence for a 'gay bashing' murder were married at the Full Sutton Prison in the UK.
Mikhail Gallatinov was convicted for strangling a 28-year-old homosexual man in 1997. His partner Marc Goodwin is serving a life sentence for the murder of Malcolm Benfold in 2007.
The couple have been told they will not be allowed to share a cell.
 11. Transgender people face lifetime of harassment.
The largest ever study undertaken into Australia's lesbian, gay, bisexual and transgender (LGBT) people has shown how many face high levels of discriminations and harassment.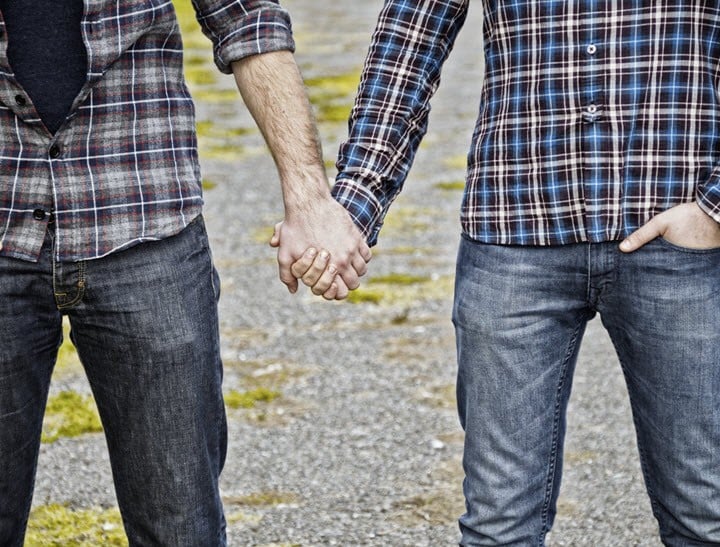 The report A Closer Look at Private Lives 2 reveals strong links between psychological distress and drug use among LGBT Australians.
It found that in the past year 7% were diagnosed or treated for a mental health disorder,
9% used methamphetamine and 25% used cannabis.
Trans males and trans females recorded the highest level of harassment, with about half reporting gender-based abuse.
William Leonard, director of Gay and Lesbian Health Victoria at La Trobe told The Age that one of the findings – that LGBT people felt less distress when they took part in community events where they could be themselves could be the key to prevention.
"For the first time we're saying, 'Don't just think about mental health services or drug services, think about a mainstream approach that includes LGBT people in all community spaces, from sporting events to political forums."

 12. Cynthia Lennon dies of cancer.
Cynthia Lennon, first wife of The Beatles' John Lennon, and mother of son Julian Lennon, has died at her home in Spain, her family has announced.
A message on her son Julian's website said she died "following a short but brave battle with cancer".
It said: "Her son Julian Lennon was at her bedside throughout. The family are thankful for your prayers."
Julian also tweeted a picture of his mother, who was 75, inside a heart with the message "In Loving Memory".
Cynthia met Lennon at art school in Liverpool in 1957 and the couple married. They couple divorced in 1968 after Cynthia discovered her husband's affair with Japanese artist Yoko Ono.

If you want your morning news fast, watch our 90 second headlines clip:
What news are you talking about today?