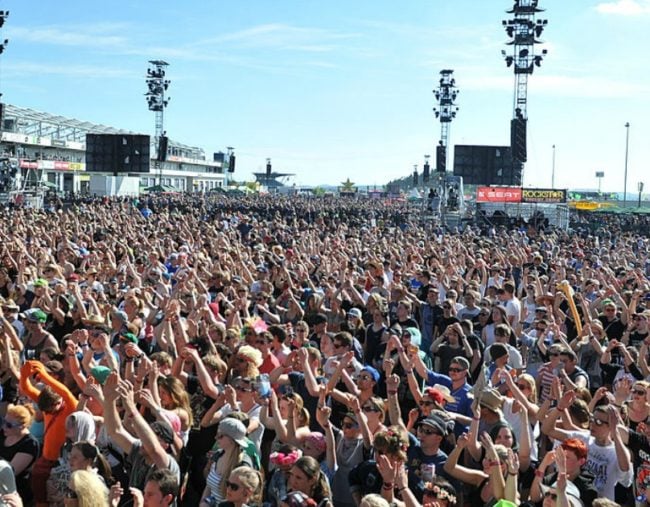 Police have halted the popular Rock am Ring music festival in western Germany over a "terrorist threat situation" and cleared the area so that an investigation can take place.
"The background is concrete evidence based on which a possible terrorist threat cannot be ruled out. Intensive investigations are currently being carried out," police in the city of Koblenz said on Friday evening, adding that they could give no further details.
"As security is our number one priority and any danger to festival-goers must be eliminated in every case, insomuch as that is possible, it was decided to suspend the festival for today," the police said.
On Friday evening, the regional state government also confirmed the terrorist threat and said that the festival has been halted for security reasons.
Loudspeakers at the site of the festival, the Nuerburgring motorsport complex where Formula One races also take place, could be heard delivering the following message:
"Because of a terrorist threat situation the festival will be suspended for today. We hope that it can continue tomorrow. Please make your way to the exits."
Witnesses reported that people left in a quiet and orderly fashion, and organiser Marek Lieberberg said the site had been cleared within around half an hour.
Lieberberg told reporters at the site that all the surrounding roads had been sealed off, but that shuttle buses were still running. He hoped the festival could resume on Saturday.
Germany's most famous rock music festival is usually visited by tens of thousands of fans and takes place over a holiday weekend.
Up to 90,000 festival-goers had been expected to attend this year, amid heightened security following the attack on a concert in the northern English city of Manchester last week.
The police presence had been expanded by 1200 officers.
Lieberberg had commemorated the Manchester victims from the main stage as he opened the festival on Friday evening.
The highlight of the first evening was supposed to have been a performance by the band Rammstein.
The festival had returned to the Nuerburgring this year after two years at the nearby Mendig airbase, which were marred by lightning strikes on festival-goers.
A parallel Rock im Park festival in the Bavarian city of Nuremberg, where the same bands were scheduled to appear but in a different running order, took place as planned.