When Georgia kissed Fireman Cam last week on The Bachelorette, our reaction went something like this: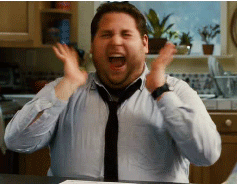 It was... sexy. It was a sexy kiss. It was intimate and he was holding her hand and he had his other hand behind her neck and then they did a little nose snuggle thing at the end and he kissed her on the forehead and uhhhhhhhggggg it made us feel things that were highly inappropriate for 8pm on a school night.
You can watch it here. Sorry, I'll rephrase that. You need to watch it here. Post continues after video. 
Cam had been so nervous about the date and it was as though all that tension eased once he started kissing Georgia. He likes her. And she likes him. It turns out that when you get two people who are highly attracted to each other, one who's a sexy fireman, and put them on a date with puppies, the kiss that follows is easily the hottest of the season.