1. Georgia Love has a shiny new TV job and she couldn't be happier about it.

Melbourne friends, you're going to be seeing a whole lot more of Georgia Love on your TV screens.
The former Bachelorette is making a return to TV journalism as a reporter for Ten's Eyewitness News.
In an interview with The Associated Press at Derby Day, Love said she was looking forward to getting back into what she's always done.
"I'm getting back into news, which is what I've always done and what I love," she told AAP.
She told AP she figured her success since her stint on the reality show came down to her desire to be authentically herself.
"It's all just about being myself, it's something I've adamantly done."
2. We kid you not: Sarah Harris accidentally live-streamed her sleep last night, snoring and all.

Spare a thought for Sarah Harris today, who accidentally managed to turn on  her Instagram live while she slept last night.
"Er, this is a bit awkward. Woke up to lots of messages like this," she wrote on Instagram.
"Not sure how I managed to turn on Instagram Live in my sleep (I probably knocked it on accidentally while blindly fumbling for water on my bedside table because pregnancy makes me SO.DAMN.THIRSTY) but I hope it was entertaining. Soz for the snoring. I'm told I sound like an injured hippo.
"Anywhooo, my Saturday nights are clearly lit.Yours must be too IF YOU'RE WATCHING A LIVE STREAM OF A SLEEPING PREGNANT LADY SNORING YA BLOODY WEIRDOS!"
Eh. Fair point. Ten points to Harris.
3. Kate Upton just got married and looked every bit as beautiful as you'd think.
Supermodel Kate Upton has married her baseball-playing fiancé Justin Verlander at the weekend.
Upton, 25, and Verlander, 34, were married in Tuscany, Italy on Saturday and the bride wore a striking long-sleeved lace gown because as if she was ever going to ear anything truly terrible.
The duo have been together for just over three years.
At the end of 2016, it was revealed that the couple had purchased a Beverly HIlls home together for US$5.25 million.
4.  Jennifer Lawrence interviewed Kim K and it was just delightful.
If you've never seen quite what a fan girl looks like in the flesh, look no further than Jennifer Lawrence interviewing Kim Kardashian West on Jimmy Kimmel, full with giggly questions and concessions about how much she does really know about the Kardashian family.
Standing in for Jimmy Kimmel on his own show, Lawrence made no secret of her love of the reality show, grilling the world's most famous woman on whether or not she ever farted, whether she thinks she looks like her ex Reggie Bush's new partner and which sibling she'd kill first if she had to.
It's delightful viewing.
5. Kit Harrington never wants to work with his wife again and, um, ouch?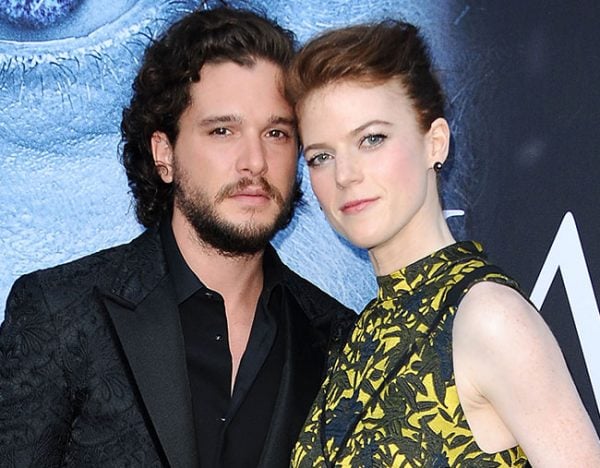 Game of Thrones star Kit Harrington isn't interested in working with his wife ever again, thanks very much.
Harrington, who starred alongside wife Rose Leslie because he just "wouldn't be able to keep a straight face" around her on set.
"I wouldn't be able to keep a straight face," he said in a recent interview with the Sunday Times.
He added not only would he struggle to not giggle while acting with her, but he also has no inclination of allowing her to show him up.
"Actually I don't want to work with her because she would just show me up again. That's why."