Last night we found out the ending to Georgia Love's Bachelorette fairytale – even if it wasn't quite the result some of us were expecting.
And if you thought the colour of her finale dress looked a little Disney-esque, you weren't far off the mark.
Designed specially for Love by Moira Hughes Couture, one of Sydney's leading bridal designers, the designer and Bachelorette styling team had one inspiration in mind – a 'modern day Cinderella'.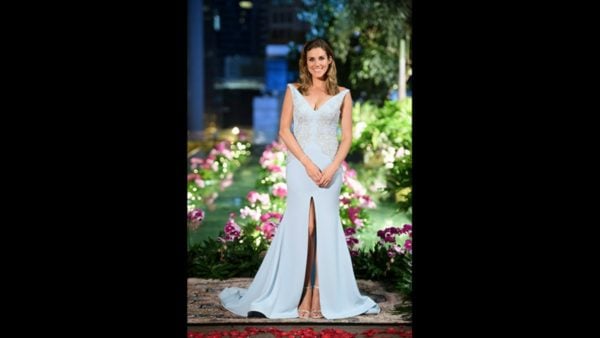 Image: TenPlay
"We wanted to create a real show-stopping design that was different from anything else she had worn in the show. The televised finale was rumoured to be overseas so her gown had to travel well and have the wow factor," Hughes told Mamamia.
"We gave Georgia a sneak preview of the new collection and she absolutely loved some of our more fitted designs. Stringy and I customised the style to show off her amazing figure, incorporating a fashion split to highlight her best feature.
"The Disney blue colour looked perfect on Georgia and which then inspired the delicate French lace used to sculpt the waist and hips."