If there's one thing we've learnt about searching for details about various Bachelors and Bachelorettes before they hit our TV screens, it's that it's almost impossible to pick the winner.
And of course, more importantly, you can never work out who the crazies are going to be.
Who'll make for the best television? We won't know until they get there… but that's never stopped us from trying before.
So without further ado, here's the low-down on the bachelors who'll be competing for Georgia Love's, love: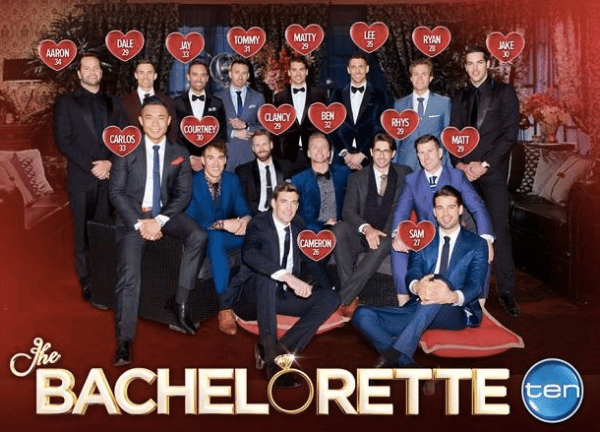 Aaron, 34, Marketing Company CEO, Queensland
Ben, 32, Miner, NSW
Cameron, 26, Firefighter, Western Australia
Carlos, 33, Entrepreneur, Victoria
Clancy, 29, Medical Sales Rep, Queensland
Courtney, 30, Industrial Designer, NSW
Dale, 29, Personal Trainer, Queensland
Jake, 30, Sales Professional, Queensland
Jay, 33, Wellness Coach, South Australia
Lee, 35, Mechanical Plumber, Victoria
Matt D, 29, Security Specialist, Victoria
Matty J, 29, Marketing Manager, NSW
Rhys, 29, Entrepreneur, Queensland
Ryan, 28, Sailing Coach, Western Australia
Sam, 27, Electrician, NSW
Tommy, 31, Employment Coach, Queensland
So, let's break it down. We've got a personal trainer, a wellness coach and, most importantly, a FIREFIGHTER.
In fact, you know that crazy thing I said before about not being able to predict the winner?
Forget that. We know the winner. How could Georgia NOT choose a firefighter? It's so obvious! What's the point of the show now? This just seems unfair to the other contestants.
Where's the suspense, Channel Ten?
This is him:

Hahahahah. Good luck other contestants. Your professions are cute. You did your best, and that's the important thing.
In short? Get ready for the quickest season of the Bachelorette ever.
This is firefighter Cameron's game now.