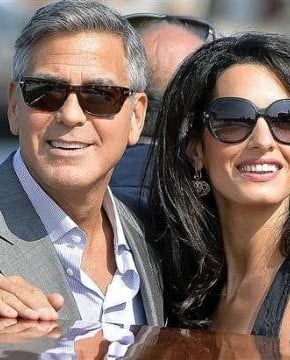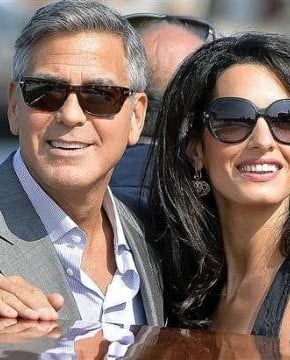 UPDATE:
Well, it's happened.
George Clooney is officially, 100 per cent married, people.
The actor's representative, Stan Rosenfield, broke the news in a statement this morning confirming Clooney's marriage to human rights lawyer Amal Alamuddin. It read:
"George Clooney and Amal Alamuddin were married today (September 27) in a private ceremony".
Clooney, 53, and Alamuddin, 36, treated guests to a 4-day wedding extravaganza.
The wedding took place at the Aman hotel in the 16th-century Palazzo Papadopoli on Venice's Grand Canal. The 7-star canal catered for the 136 guests at the wedding, including Matt Damon, Cindy Crawford, U2's Bono, and Vogue's Ana Wintour.
Here's what the world's seen of the Clooney/ Alamuddin celebration so far:
This is the second marriage for the famous bachelor, after a four-year marriage to actress Talia Balsam (who is now happily married to Mad Men star John Slattery). George claimed he wouldn't marry again because he "wasn't very good at it". But that was twenty years ago. After a bevy of babes, he finally met his match last year in Oxford-educated lawyer Alamuddin.
With a shared common interest in global human rights (George co-founded the humanitarian aid organisation Not On Our Watch, Amal turned down an offer to investigate the war crimes and human rights violations in Gaza with the UN), the couple were engaged in February after six months of dating.
They are reported to have first met at a charity function in Italy, where Amal would not accept George's phone number. Refusing to take 'no' for an answer, George emailed Amal the next day, and was finally rewarded with a response a few days later. Well played, Amal.
We also know that now he is officially married, George owes Nicole Kidman a lot of money. But surely he is too busy with his beautiful new wife to be worried about that.
Congratulations to the extremely accomplished (and seriously attractive) newlyweds.
Here they are on the red carpet for the first time in early September.
Mamamia previously reported:
George Clooney is set to give up his title of World's Most Eligible Bachelor in a four-day wedding extravaganza alongside his equally gorgeous and intelligent fiancé Amal Alamuddin.
The pair touched down in Venice, Italy, on Wednesday, and were filmed streaming along the Giudecca Canal, on their way to the booked-out Belmond Cipriani hotel.
Questions have been amounting about the intricate details of the lavish affair, which will see the pairs close family and an array of 90 celebrity A-listers (Brad Pitt, Matt Damon, Sandra Bullock listed, among others) witness the event.