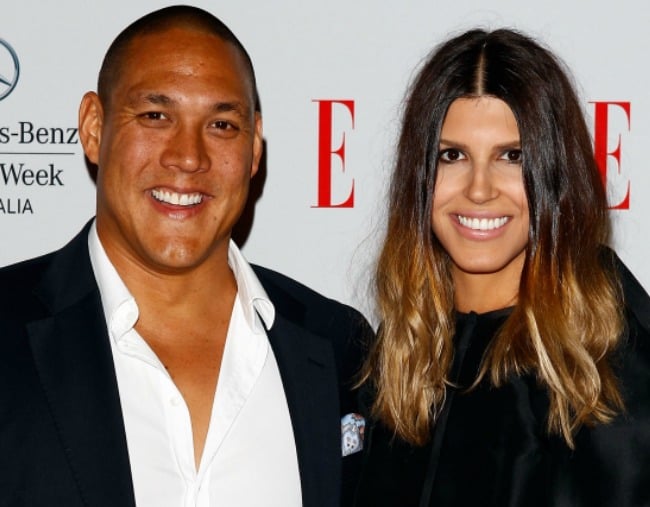 Sara Huegill, the wife of former Olympian Geoff Huegill, has been arrested for allegedly stealing a pair of $2500 leather pants from a boutique in Byron Bay.
The Daily Telegraph reports the 34-year-old was shopping at the Island Luxe store, in the northern NSW town, on Sunday afternoon.
Staff claim they saw the mother-of-two place a pair of Bassike pants in her handbag, before walking out of the store without paying.
NSW police confirmed to Mamamia, that just after 2.30pm on Sunday, officers from the Mounted Unit arrested a woman on Fletcher St in Byron Bay, after an alleged theft at a nearby store.
A police spokeswoman said the 34-year-old was taken to Byron Bay Police Station, where she was issued a Field Court Attendance Notice for shoplifting.
She is due to appear in Byron Bay local court on Thursday, June 7.
The spokeswoman confirmed the property was recovered and returned to the store, but would not disclose any further information about the item involved.
According to the Daily Telegraph, the store manager followed Huegill for 200m on foot before flagging down the two mounted police officers.
Huegill's lawyers released a statement to the Daily Telegraph on her behalf.
"Sara deeply regrets the incident and apologises unreservedly," it said.
"Sara has made good progress recently in being treated for issues related to anxiety and depression and acknowledges this is a setback. She has asked for privacy and understanding for her family at this time."
In April 2014, Sara and Geoff Huegill were arrested for cocaine possession at the exclusive Stables Club at the Royal Randwick Racecourse.
They each has less than a gram of the drug on their person.
Both pleaded guilty and were given six-month good behaviour bonds in Waverley Local Court.
The following year the former swimmer spoke to the Daily Telegraph about how the arrests affected their lives.
"I'm not going to lie, last year for me in particular was the hardest year I've been through since my father passed away [in 1989]. The biggest lesson I've learned … and I learned many lessons … is that it's just not about us any more," he said.
"We recognise and realise we've got family. We always knew that but the ramifications of our actions affects our family, it affects our business colleagues and it affects our business partners. But if you're looking for a shining light, for us as a family unit, we were able to hold it together."