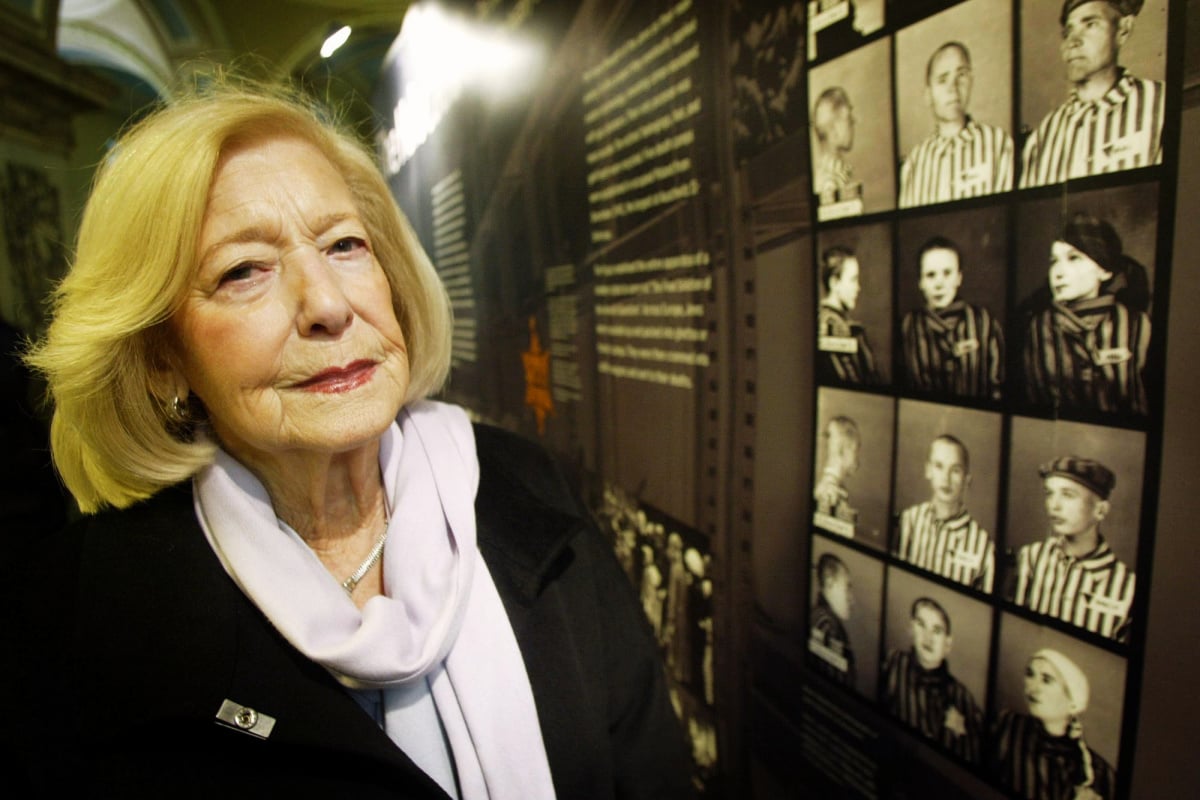 "When I think back, I have to pinch myself sometimes to see if I'm really alive," Gena Turgel told NBC News in 2015; 70 years after the British liberated her, and fellow prisoners in the German, Bergen-Belsen concentration camp.
Born the youngest of nine children to Samuel and Estera Goldfinger in 1924, Poland, Gena Turgel's story of survival is one of the most incredible from World War II, one you do almost have to pinch yourself to believe.
Gena was only 16 when her hometown of Krakow was bombed by the Nazis on September 1, 1939. Her family was herded into Krakow's notorious, Jewish ghetto where two of her brothers lost their lives fighting the Nazis.
WATCH: 98-year-old holocaust survivor's tips for a good life. Post continues below.
A year later, Gena was sent with her sisters and mother to the first of the three concentration camps that she would ultimately survive, Plaszow. It was here she would face more heartache and loss, this time of her 17-year-old sister Miriam who was shot mercilessly by the Nazi's for smuggling food into the camp.
Years later, Gena said she could still feel her sister's ghost due to the constant chill she felt down her left side, the side her sister had always slept.
Gena spent two and a half years at Plaszow concentration camp until she was later marched to Auschwitz.
During her two-month imprisonment at Auschwitz, the then 21-year-old faced some of the most horrendous experiences imaginable, including medical testing by the notorious Nazi doctor Josef Mengele. The experimentation was also conducted on another of her Gena's sisters, Hela. "They injected her with petrol, to draw out her blood," she recalled.
But perhaps the most astonishing event from her time at Auschwitz was that the Angel of Death himself (Mengele), directed the naked Gena, along with hundreds of others into a gas chamber, toward certain death; yet she managed to walk out alive.
At the time Turgel had no idea that the Nazis had tried to kill her until a woman she knew said, "Don't you know what has just happened to you? You were in the gas chamber!"
"I completely lost my voice," she said. "I just never realised I was in the gas chamber … it must not have worked."
Not long after her life was accidentally spared by this act of fate, the Red Army approached Auschwitz. Gena and her mother were ordered to leave, being forced to leave her sister Hela behind.
"She was too sick to move," Gena said.
Once they said goodbye to Hela and left the camp, they never saw her again.