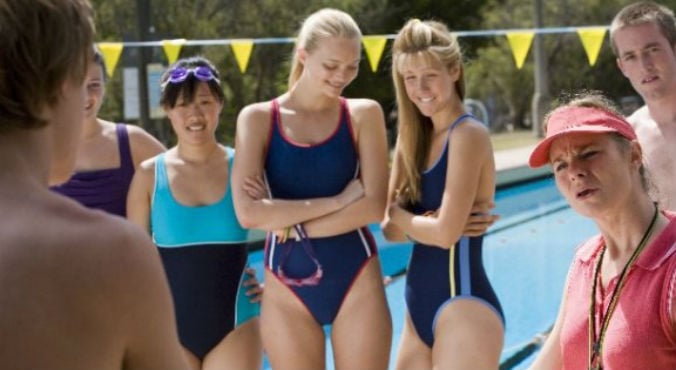 Image: Supplied. Carla GS in The Black Balloon, 2008 (to the left of Gemma Ward. Blink, and you'll miss her!
I was a 25-year-old actress, wearing an unflattering one-piece, and I was standing next to Australia's most famous supermodel at the time. I was playing a 15-year-old schoolgirl, in what would become the biggest Australian film of the following year. I was the fittest and "healthiest" I had ever been in my life, and I still felt fat.
Welcome to my life in 2007, when I was a small-time actress in an Australian film called The Black Balloon. It was the year I forced myself to become super-fit and "healthy", only to realise that it wasn't really worth it at all.
Related: Is #Fitspo 2015's most dangerous body image movement? 
The film was Gemma Ward's feature film debut, and at the time, she was one of the most in-demand models in the world. I remember flicking through RUSSH magazine with her while we were on set, and she would see herself on several of the pages and talk about what it was like to walk for Hermes, or pose for Calvin Klein. She was even more beautiful in real life.
Even though I had auditioned three times to secure my role, I still had to attend a swimming test, as several of my scenes were set at the local pool. I failed the test. The truth was out that I was unfit and not at all athletic.
The director took me aside and said, in a friendly manner, "Carla, basically, you're fucked. You need to practice your swimming, or you're out of the film." She honestly meant this in a nice way, and I appreciated her frankness.