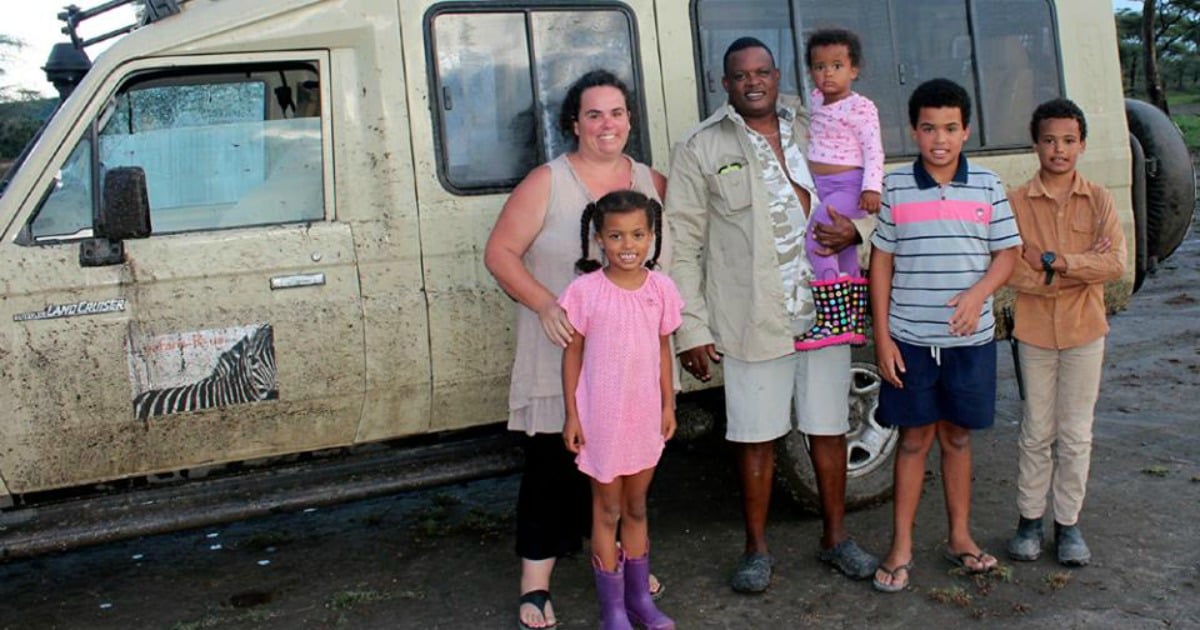 Love can happen when you least expect it.
When you very, very, very least expect it.
It certainly wasn't what Gemma Sisia was hoping to find when she went on an African safari. On the plains of the Serengeti, this young Australian woman who'd just finished uni was ready to spot lions, tigers and elephants.
But a husband? No way.
Tanzania had big plans for Gemma Sisia, the former country-girl famous for starting up St. Jude's School at the bottom of Mt. Kilimajaro. A school that started with three kids and now has 1900.
But she might not have started this dream, were it not for a safari bus driver dreaming about her.
The love story began before Gemma even knew it.
Listen: Gemma shares how it happened on the I Don't Know How She Does It podcast. 
Her soon-to-be Tanzanian husband spotted her walking around town and said to his mates, "see that girl, I'm going to marry her one day".
And he did. But not without a rather convoluted plan, says Gemma.
"The safari. There [were] these boys who came up to [my traveller friend] Clare and I and said 'hey girls, do you want to go on safari?' and we're saying 'no, no, we're fine, we've got our Lonely Planet books' … and the boys said 'girls, we'll give you a lift to the hotel' and we're saying 'no, no, don't talk to strangers, we're fine' and so we get up the hill and we're sweating …"
The boys beat them to their hotel, bought the tired girls a drink and signed them onto their safari company. Little did Gemma realise, they were about to create a fake problem to ensure Gemma met Richard.
"The next day we're going through the safari and [the safari leader] Mike said, 'we've got a bit of a problem, I have to wait for some Irish boys … but Richard here is going to be your driver' … and I said 'no worries' and I still remember Richard. He had these black Levi's on … I thought 'he's nice looking' and I thought you can always admire but don't touch.
"Anyway, I had a safari fling … I gave Richard a fake address … six months later, one of his relatives is in Immigration … so he got an East African passport … to travel to [me] in Uganda".
The three day drive from Richard's home town to where Gemma was assisting at a school, was worth the effort.
A few years later, they were married. Now, they have four children – Nathaniel (15), Jacob (13), Isabella (8) and Luisa (4).
But Gemma has heaps more kids than that. A whole school, actually.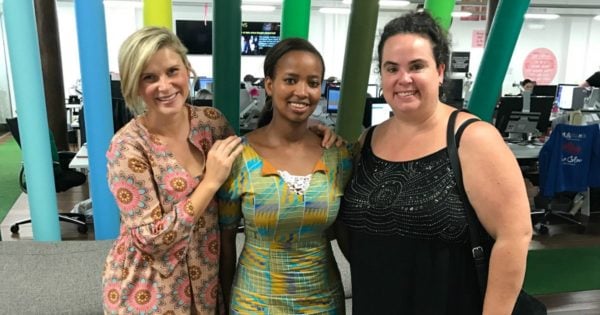 Gemma got busy with her new life in Africa. Very busy. She started up a school with a gift of land from her father-in-law and $10 from a girlfriend back in Australia.
This year, her budget is $6.2 million.
It's rewarding, but not easy.
"Every day at lunch time you have hundreds and hundreds of kids having lunch and if I'm getting exhausted … like five times a day you want to give up … I love going to the assembly … and you go back to the office and you go, 'yeah right, that's what we're doing and you get back into the grind' …"
So what might have been a tricky investment for Richard and his workmates all those years ago has proven to be one of the greatest thing to happen to Richard – and Gemma.
But it's also one of the greatest things to happen to Gemma's newfound home, Africa.
An unexpected but remarkable love story between a bus driver, a teacher and Tanzania.
Follow Alissa on Instagram and Twitter @alissawarren. 
To hear how Gemma built her school, starting with just $10, listen to the full episode of I Don't Know How She Does It:
You can buy any book mentioned on our podcasts from iBooks at apple.co/mamamia, where you can also subscribe to all our other shows in one place.