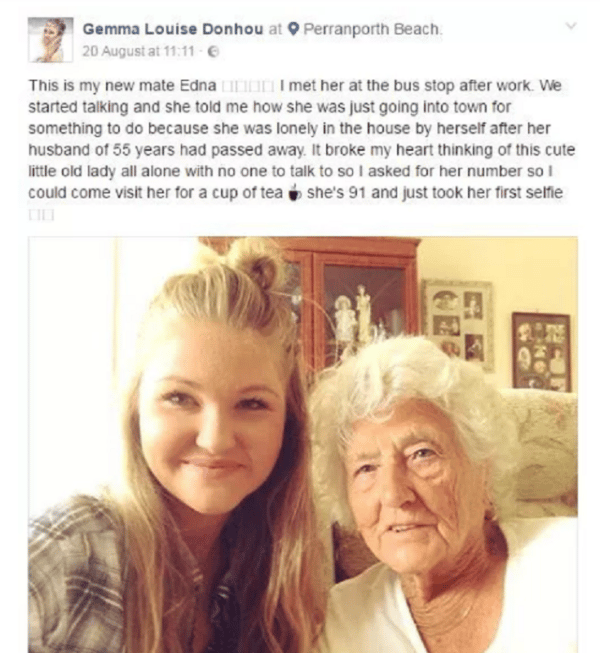 Gemma, 28, is an Aussie living abroad in the UK who has always been really close to her nan Sheila. When she saw Edna, 91, sitting at a bus stop alone she started up a conversation with her. That conversation changed both of their lives…
I first met Edna at the bus stop after work where I live in the UK. She sat down next to me and I thought she was the cutest, so I said, 'Hi!', like I always do, especially to older ladies. I just love them. I asked her about her day, what she was up to and she said she was just going into town for something to do because she was bored at home and lonely without her husband.
We talked about her life a bit and where I was from. It broke my heart that she was lonely at home so I eventually asked her if I could have her number so we could go out for coffee some time.
An elderly couple in the UK called emergency because they were lonely, so police popped around and cooked them a meal. Article continues after this video.
Her face lit up and she gave me her number and said, 'Make sure you call me, I want to see you again.'
I called her the next day and went and visited her for tea at her house. We chatted away and it was really nice. She showed me photos of her husband and wedding photos and then said, 'I have a camera around here somewhere. I want a photo of you.' So I said I could take a selfie on my phone and she said, 'What's that?' So I helped her take her first selfie and because I told my mum and my friends about her, I put the photo up on Facebook for them to see.