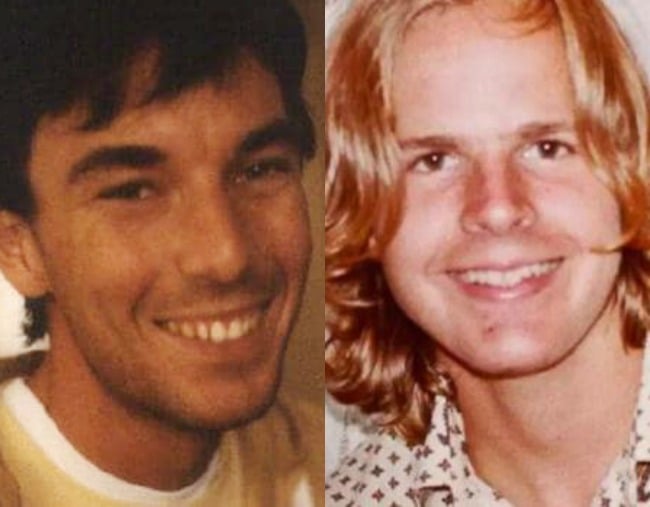 It was November 1989 when the body of 31-year-old John Russell, who worked at a bar in Sydney's Eastern Suburbs, was found at the bottom of a cliff in Tamarama.
The coroner would find his death was accidental; a result of drinking too much the night before.
Around the same time, two other men went missing in Bondi.
One was 25-year-old television presenter, Ross Warren, who was last seen driving along Oxford Street in July 1989 after a night out with friends.
Two days after his disappearance, the keys to his car were found beneath a cliff top at Marks Park – the same cliff where Russell's body had been discovered.
Then there was Gilles Jacques Mattaini, a 27-year-old Frenchman, who had gone missing a few years earlier. He was last seen walking on the Tamarama coast track.
But, there's more.
In 1988, 27-year-old Scott Johnson, an exceptional mathematician who was completing his doctorate, bought a ticket to Manly. Two days later, his naked body was found at the bottom of a cliff. It was deemed a suicide.
Then, in 1992, there was 64-year-old Cyril Olsen. His body was found in Rushcutters Bay, and even though an autopsy determined he had been horrifically beaten, Olsen's death was officially recorded as a drowning.
So, what did these five men, who all died in suspiciously similar circumstances, within a close radius of each other, have in common?
They were gay.
On Tuesday, a landmark review of 88 deaths in Sydney between 1976 and 2000 found that one third were gay hate crimes. In light of the Strike Force Parabell findings, which took 10 criminal investigators and three years to collate, the NSW police have said they will consider issuing a formal apology.
In a press conference delivered on Tuesday, Nicholas Stewart, Partner at Dowson Turco Lawyers and LGBTI Co-Chair of Australian Lawyers for Human Rights, said there were questions that desperately need answering: Why was evidence lost? Why were some witnesses not spoken to? And why weren't leads followed?
Take Olsen for example.
His body was discovered in a renowned gay beat. He was beaten, and his head was gashed. The police had a tip off that a man with a lengthy history of violence said on the night he was murdered: "Let's roll a poof tonight." Another person came forward and identified that same man as being involved in the murder of the 64-year-old.
Marks Park, which sits atop the cliff where Russell allegedly 'fell', Warren's keys mysteriously emerged, and extraordinarily close to where Mattaini was last seen, was a known gay pickup area.
Why weren't these incidences more thoroughly investigated?
"It's an ugly part of our history," Assistant Commissioner Tony Crandell, police spokesman for sexuality, gender diversity and intersex said. "It needs to be acknowledged and we need to do everything we can to make sure no one is ever again fearful of their life because of who they are."