On Monday afternoon AEST, a frazzled but impassioned Frances McDormand put her Oscar on the floor of the Dolby theatre and, with arms outstretched and palms facing the roof, asked every female nominee to stand. Her voice got louder, her ams got higher, applause more frenzied. As the women stood, McDormand's grin stretched to the end of either cheek.
It was a fitting end to an Awards season punctuated by talk of time being up, of an industry that needs to change, of how long men have been shrouded in the Hollywood light despite the shadows they cast on those in their wake.
McDormand became the face of the awards ceremony, her speech replayed and her face and her photo strewn across every major news site.
Curious, of course, for the fact just minutes before she accepted her award, Gary Oldman took the stage to accept his own for Best Actor.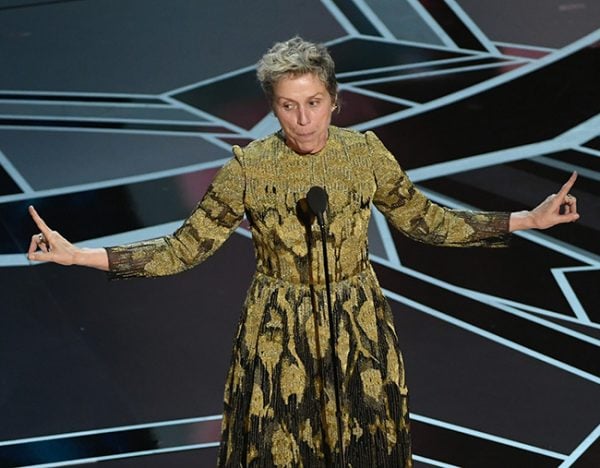 At the age of 59, 2018 has been quite the year for Oldman who walked away with an Oscar, a Golden Globe, a BAFTA and a Screen Actors Guild Award for his work as Winston Churchill in Darkest Hour. He sashayed onto stage, was given his award, made his speech and walked off. The world responded with the equivalent of a universal and never-ending awkward silence. We weren't sure how to meet the win, so we didn't address it much it all.
Somewhere beyond the bubble of Hollywood, Oldman's ex-wife Donya Fiorentino released a statement to TMZ:
"Congratulations, Gary and congratulations to the Academy for awarding not one but two abusers with Oscars.
"I thought we had evolved. What happened to the #MeToo movement?"
One man Fiorentino was alluding to was NBA star Kobe Bryant, who was accused of sexual assault in 2003 and won his Oscar for Best Animated Short Film for Dear Basketball.