On Monday afternoon AEST, a frazzled but impassioned Frances McDormand put her Oscar on the floor of the Dolby theatre and, with arms outstretched and palms facing the roof, asked every female nominee to stand. Her voice got louder, her ams got higher, applause more frenzied. As the women stood, McDormand's grin stretched to the end of either cheek.
It was a fitting end to an Awards season punctuated by talk of time being up, of an industry that needs to change, of how long men have been shrouded in the Hollywood light despite the shadows they cast on those in their wake.
McDormand became the face of the awards ceremony, her speech replayed and her face and her photo strewn across every major news site.
Curious, of course, for the fact just minutes before she accepted her award, Gary Oldman took the stage to accept his own for Best Actor.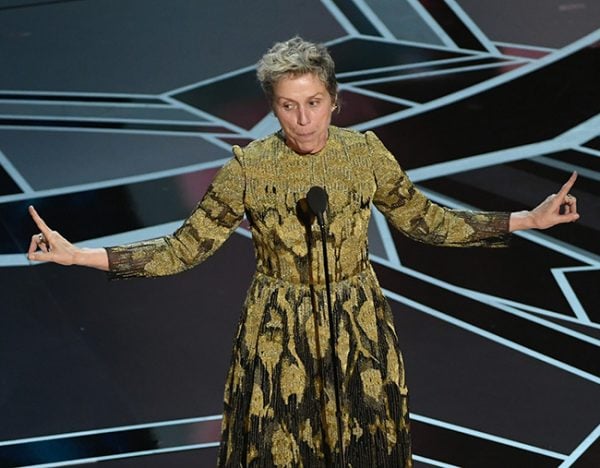 At the age of 59, 2018 has been quite the year for Oldman who walked away with an Oscar, a Golden Globe, a BAFTA and a Screen Actors Guild Award for his work as Winston Churchill in Darkest Hour. He sashayed onto stage, was given his award, made his speech and walked off. The world responded with the equivalent of a universal and never-ending awkward silence. We weren't sure how to meet the win, so we didn't address it much it all.
Somewhere beyond the bubble of Hollywood, Oldman's ex-wife Donya Fiorentino released a statement to TMZ:
"Congratulations, Gary and congratulations to the Academy for awarding not one but two abusers with Oscars.
"I thought we had evolved. What happened to the #MeToo movement?"
One man Fiorentino was alluding to was NBA star Kobe Bryant, who was accused of sexual assault in 2003 and won his Oscar for Best Animated Short Film for Dear Basketball.
The second was her ex-husband Gary Oldman.
Seventeen years ago, in 2001, Gary Oldman was accused of assaulting Fiorentino in front of their two young children.
"As I picked up the phone to call the police, Gary put his hand on my neck and squeezed," she alleged in a 2001 divorce filing. "I backed away, with the phone receiver in my hand. I tried to dial 911. Gary grabbed the phone receiver from my hand, and hit me in the face with the telephone receiver three or four times. Both of the children were crying."
This is exactly what Frances McDormand was going on about when she mentioned 'inclusion riders'. Post continues after audio.

At the time, Oldman claimed her allegations were "replete with lies, innuendoes and half-truths". Charges were never laid and he won sole custody of the couple's two sons.
And so, as Gary Oldman took the stage of the Oscars on Monday, whispers were prevalent but verdicts inconclusive. In a post-Weinstein/#MeToo/#TimesUp era, the court of public opinion has often been decisive: Believe women. Not as a rule, but as a sentiment. Listen to them. Hear them.
So what we do with a man like Oldman? Who is accused, but has never been convicted?
According to his 20-year-old son, Gulliver Oldman, we believe him. He was there, he said. It didn't happen.
"It has been troubling and painful to see that these false allegations against my father being written about again, especially after this was all settled years ago," he wrote in an open letter, as published in The Hollywood Reporter. "There is good reason that these specific articles and accusations subsided years ago.
"In my eyes it is disgusting that so called 'journalists' have seen fit to spread and perpetuate the lie.
"I have grown up in the world we are accustomed to now, where people are guilty until proven innocent. It's a shame to see that "clickbait journalism" or judgement by headline, is designed to make one jump to conclusions without receiving the full range of fact that may be detailed in a piece, whether it be online or otherwise."
The 20-year-old went on to write that his father is his "one and true guiding light"; his "only hero".
"He is the man I aspire one day to become. If I could only become even half as great and half as pure. I was granted the good graces of his fatherhood as a child to be raised by him and only him. For that I am eternally grateful every hour of every day. I owe him the world and I owe him my life.
"If it appears that publicly speaking ill of my mother something I am either fond of, or accustomed to, that is not the case. She has been a sad and very troubled person most of her life. Yes, she brought me into this world. She didn't however, teach me how to be a part of it."
Gulliver said he has not spoken to his mother in seven years, and wants only to protect his father's "character" - as both a person and actor.
"I know he is a wonderfully kind man, gifted beyond belief, a man who wouldn't trade anything for the love and happiness of his family. This torment should have ended 16 years ago. In such a momentous year for his career, my father should finally be able to enjoy himself. I hope that we can please make that a possibility."
And herein lies the depths of grey regarding #MeToo. The movement has evolved quickly. We aren't judges, we aren't juries, but we want justice. We know believing women creates change, but believing all undoes a movement. We know that assuming guilt is dangerous, but staying silent appears complicit.
In the case of Gary Oldman, we're a little confused. We don't know which way to look, so we don't look at all. We don't know which way to turn, so we avoid him altogether.
Here we have a case that's not cut and dry, where the answers aren't clear and justice less so.
But these things, this movement? It wasn't meant to be easy. In fact, without the occasional shades of grey and splashings of nuance, we wouldn't have a movement at all.
So for now, when we don't know where to stand or who to stand beside, we gravitate to the ones we can be sure of. The ones who stand on stage and pull women up with them. The ones who want, with raised fists, to lead the pack behind them.
The Frances McDormands. We talk about them instead. Because with them, we see hope.
At Mamamia, everyday is International Women's Day.
Through Dress for Success' Empower Hour campaign, it takes just a few minutes to change a woman's life forever. Donate an hour of your pay this International Women's Day and set a woman on her path to success by visiting empowerhour.org.au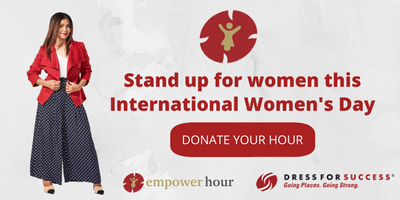 Mamamia has also partnered with Room to Read, where you can keep a girl in school for just $1 a day. Educating women and girls is widely understood to be the most powerful and effective way to address global poverty.
You can help make the world a better place for women and girls by donating at www.roomtoread.org/mamamia