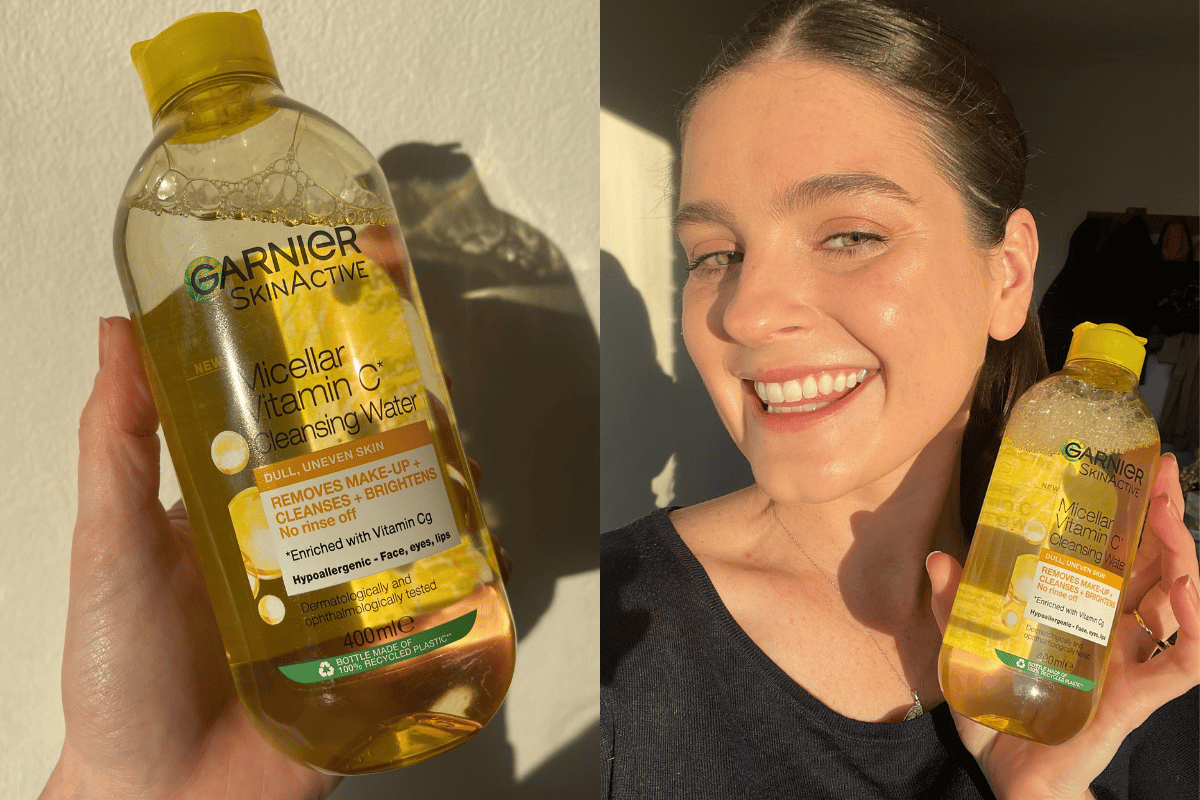 As Mamamia's beauty writer, I test a lot of different products. Like, MANY. But there are always those tried-and-true products that I end up going back to. The kind of stuff that never lets you down.
Garnier's Micellar Water is one of those products. I'm NEVER without a bottle in my bathroom cupboard — it's been a part of my routine for years. Because, when it comes to micellar water, I've tried a lot of different brands and I can tell you this: they're not all created equal. 
So, when I heard Garnier was coming out with a shiny new version of micellar water, I was intrigued. 
And then I found it was a vitamin C formula, and I was even more intrigued. Excited, even.
Why? Because everyone knows vitamin C is the jam. It's the gold standard ingredient when it comes to reducing hyperpigmentation and nabbing brighter, healthier-looking and glowing skin. 
Plus, have you ever seen micellar water with vitamin Cg in it? Thought so!
Want to find out more about this newbie? Course you do! We all do.
Below, I'm breaking down everything you need to know about the new Garnier Micellar Vitamin C Cleansing Water.
Let's go!
What is Garnier Micellar Vitamin C Cleansing Water?
Oh! Good question. Important question, in fact. Let's look at exactly what Garnier Micellar Vitamin C Cleansing Water actually... is.
Well, if you love a good all-in-one formula, I've got some very good news for you, friend. Because y'see, this is not just your average micellar water. Nah. There's way more to it.
Not only is it an effective makeup remover and a hardworking cleanser, but it now comes with the added benefit of skin brightening vitamin Cg for even, glowing skin.
Oooo! Different!
If you're not sure exactly how this formula works, pop on your science beanie for a quick minute and let me explain. 
Basically, the micelles in the formula act like teeny little magnets, grabbing makeup, dirt and grime and essentially cleaning your face for you, minus all the rubbing and scrubbing. 
The added vitamin C then works its magic by boosting dull and uneven skin, making everything look brighter and happier.
What a showoff!