As much as we want to say that we're a bunch of cool, calm and collected individuals here at Mamamia, the truth is, we're just as easily starstruck as the next person.
Especially when a   Game of Thrones star visits the office.
This week we were graced by the looming presence of Hafþór Júlíus Björnsson (also known as Gregor "The Mountain" Clegane, also known as the crusher of people's skulls, also known as the Hound's more violent brother) .
He's in town for SodaStream's latest initiative to reduce the world's plastic bottle waste.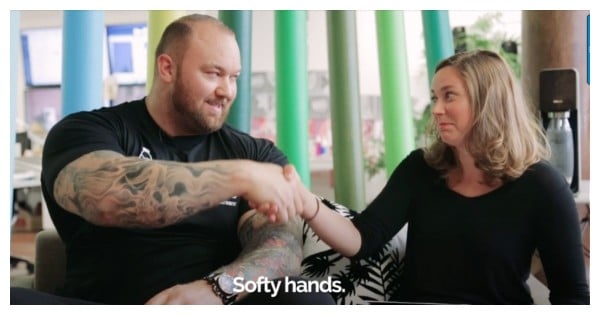 Skull crushing requires a lot of hand lotion. 
Despite his on screen nature, the self-confessed "gentle giant" was an absolute delight and patiently answered all of Georgia Cockerell's "we've never been a strong person, please explain to us" type questions.
He even opened up about the similarities he shares with his teeny tiny pooch, Asterisk.
To the writers of Game of Thrones, we want more Clegane!