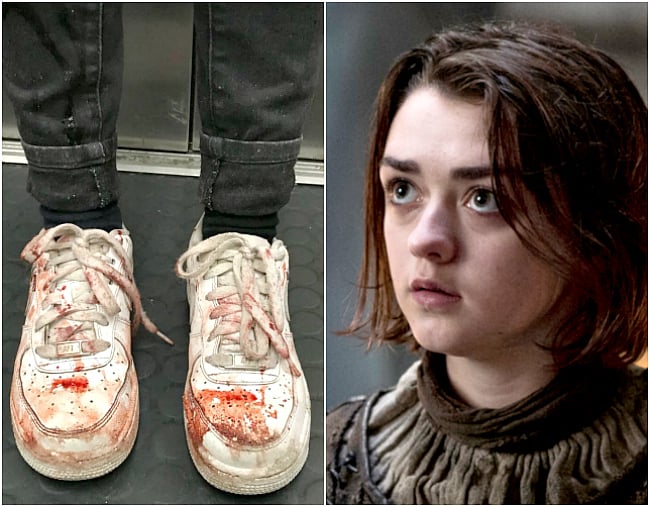 If you enjoy watching television the old-fashioned way (you know, one episode at a time with only the promos to hint at what may happen next) then look away now.
Because Game of Thrones star Maisie Williams is here to ruin all your fun.
Posting to Instagram on Sunday, the British actor shared what some fans are interpreting as a major spoiler for the final season of the juggernaut fantasy epic.
The 21-year-old, who plays Arya Stark on the series, posted a photograph of blood-spattered sneakers to mark the final day of filming.
"Goodbye Belfast. Goodbye Arya. Goodbye Game of Thrones. What a joy I've had. Here's to the adventures to come," she wrote.
But it's the hashtag that followed that has folks crowing:
"#lastwomanstanding"
Last woman standing. Wait… Does that mean Arya ends up on the Iron throne as the Queen of the Seven Kingdoms? Then what happens to Daenerys Targaryen? And WHAT ABOUT ARYA's SISTER SANSA?
Cue chaos in the comments section.
"I have a feeling that my favourite character to root for is gonna have a good final season!" one wrote.
"LOOK AT THE HASHTAG I'M FREAKING OUT" wrote another.
Of course, the reality is that all GoT stars are contractually forbidden from leaking any significant plot-spoiling information. So it's possible Williams was simply referring to being the last female actor to wrap filming on the show, but… BUT…
Her co-star Lena Headey, who plays villain Cersei Lannister, certainly didn't do anything to quell the excitement.
The 44-year-old commented on Williams' post with the word "QUEEN", followed by a string of emojis including a crown. Which is definitely, absolutely legitimate proof that Arya wins, and definitely, absolutely not just the cast members riling us all up ahead of the 2019 release.
You know, like that time Sophie Turner (Sansa) got a House of Stark tattoo that reads, "The pack survives".
After all, according to Turner the grand finale will be typically twisty:
"For me – without giving anything away," she told Digital Spy," I was satisfied with how unpredictable the show's ending really is."
The precise release date of Season 8 is yet to be announced, but rumour has it you should clear your calendar in April 2019.