The newest season of Game Of Thrones is just days away, with the characters now as familiar as old friends (well, the ones who haven't died yet at least).
But your favourite GOT personalities almost looked very different.
Watch the video playing above to see the full list. 
While it's hard to imagine anyone other than Kit Harrington as Jon Snow or Emilia Clarke as Daenerys Targaryen, there were a whole host of actors who came very close to playing them.

Listen: We recap Game of Thrones in 60 seconds on The Binge podcast. A must listen for any true fans. 
Jon Snow.
What do Me Before You and Game of Thrones have in common? Quite a few things – or people to be more specific – actually. Both Emilia Clarke and Charles Dance (Tywin Lannister) also starred in the tearjerker, but they came close to being joined by Sam Claflin.
Before he got cast as Finnick Odair in The Hunger Games, the 30 year old reportedly auditioned for the roles of Jon Snow and Danaery's brother Viserys Targaryen, who had a pot of molton gold poured over his head.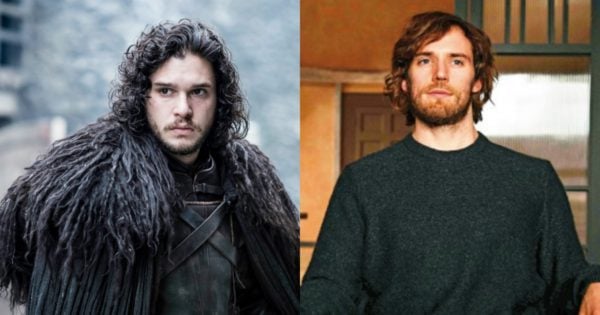 Loras Tyrrell.
Your favourite Outlander star very nearly met a torturous end in Westeros. Yes, Jamie Fraser aka Sam Heughan auditioned for several roles in Game of Thrones, including Loras Tyrell, Renly Baratheon and members of the Night's Watch multiple times.
Unfortunately he didn't get any and thankfully went on to play the tartan-clad Jamie Fraser. In fact, Heughan told Vulture the GOT audition process gave him the confidence to land the breakout part in Outlander.