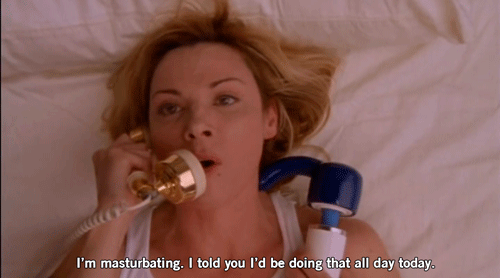 Image: Sex and the City
Masturbation. Flicking the bean. Shucking the clam.
Whatever you call it, a lot of women are doing it — even as you read this! — but we don't seem to talk about it all that much. Which is a shame, because something that's so natural and good for your health shouldn't be a taboo.
RELATED: 1 in 3 women are faking orgasms for this very sad reason.
Considering we're entering the last week of Masturbation Month, it seems only appropriate to, erm, dive into the topic by sharing a brilliantly cringe-worthy true story. In a video series for Refinery 29, women have been divulging why they masturbate, how they think we should be talking about it, and best of all — their most awkward encounters. (Post continues after gallery.)
The on-screen orgasms that got us talking.