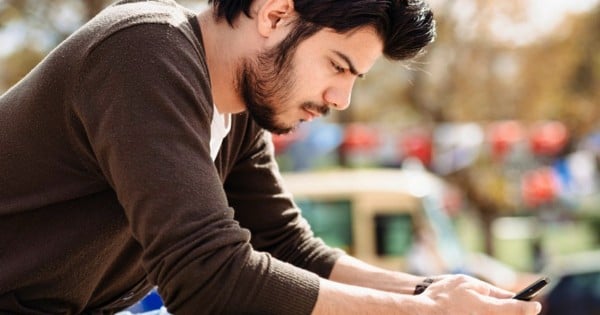 "I saw my friend's husband on Tinder."
Tinder has been dubbed (mostly by people in our office) as the socially-acceptable dating app you're not ashamed to tell your friends and colleagues about. But a study has found the newest Tinder trend is marriage.
Global Web Index has found that one-third of all users on Tinder are, in fact, married. Makes you wonder what your spouse is doing on their phone in bed, hey?
This story is about a woman who found her best friend's husband on the dating app. And it's got a less-than-usual ending.
I saw my friend's husband on Tinder.
On the couch with my PJ's on, I commenced what has become my nightly routine. Swiping through the world of Tinder. I was about thirty swipes in when I stopped, finger poised over the image of the guy in the grey t-shirt and familiar cheeky smile.  Taking my time, so that I wouldn't accidently swipe the wrong way (as I've done many times before) I opened the profile and began to read the bio.
'Friendly guy, enjoys the outdoors, movies, travel and cooking. Looking for great girl to date.'
I re-read it four times then swiped through his other photos at least ten times. Sick with nerves, I realised it was definitely him. My friend's husband.  I re-read the bio making sure I hadn't missed something. What exactly, I wasn't sure. But there was no mention of his marital status.
I had just seen him and his wife two days ago at a picnic and as far as I knew they were together. Married for six years, I couldn't understand why he would do this and if she had any idea at all.
I brought up her number ready to call when I stopped. What on earth was I going to say? 'Hey, did you know your husband is on Tinder?' I dropped the phone and turned the television on. I'd had enough reality for one night.
What a truly awful Tinder date looks like, in Tweets.
The days that followed were plagued with thoughts about my Tinder discovery. When my friend rang for a chat, I practically jumped out of my skin and made a ridiculous excuse to get off the phone.
I found myself burdened with knowledge I desperately didn't want to have. Am I meant to tell her? Why would he put himself on a public site when he is married? Why would he do that to her?
At a mutual friend's birthday dinner, there was no avoiding him or her. I arrived and took a seat at the other end of table and did my best to keep the conversation and eye contact limited. They laughed and chatted, held hands and looked deliriously happy. He appeared to be totally unaware that I was in on his dirty, little secret and that I was finding it hard to stomach my pasta cabonara.