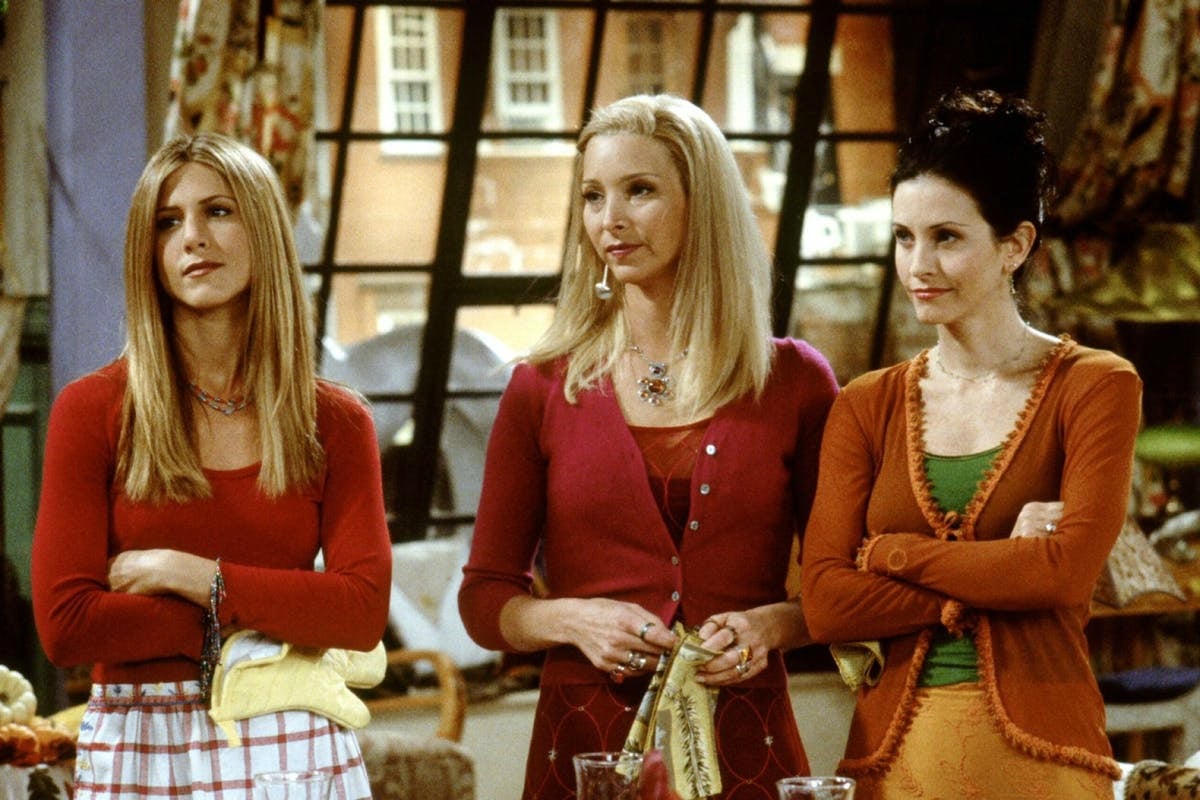 Even if it hadn't been your day, your week, your month or even your year, Friends was always there to make you laugh after a long day of work or school.
While the six friends behind the sitcom shared some hilarious adventures navigating adulthood, relationships and working life, there's no doubt that sometimes the story lines could be a little bit... weird. 
From family incest, to animal porn and fake foreskins, the writers sometimes got a little too imaginative when coming up with episodes for the show's 10 seasons.
And we're not the only ones who think so.
During a 25th anniversary panel of Friends at the Tribeca TV Festival, co-creator Marta Kauffman revealed the plot lines she has since come to regret.
"The stalker," she said. "We did a lot of rewriting on that to make that work."
The episode Kauffman was referring to was from season three, where Phoebe ends up falling for her twin sister's stalker, Malcolm.
Kauffman also wasn't too crazy about the plot line from a season two episode where Phoebe gets the chickenpox and gives them to Ryan from the navy, who was played by Charlie Sheen.
The show's other co-creator David Crane also spoke out about some of the questionable plot lines.
"It's one of those things where, I don't watch the show at home, but occasionally if we're travelling or whatever, it will be on and sometimes I'll see something... and it will be like, 'Wow, that actually holds up', and then there are definitely times where I'll go, 'Really? We went with that?'" he said.
In honour of the show's reunion, we decided to have a look back at the seven weirdest story lines that we sort of just accepted watching the show the first time around.
That time Ross wanted to sleep with his cousin Cassie.
There's no sugar coating it, this was by far the most bizarre and twisted plot line of them all. In season seven, Monica and Ross's cousin Cassie, played by Denise Richards, comes to visit.
Undeniably a very beautiful woman, Chandler and Phoebe instantly became attracted to her. But then the writers decided to take it one giant unnecessary step further and have Ross try to sleep with his cousin.
When Cassie is staying with Ross, the two start talking about their summer on the beach and Ross tries to control his desires for his cousin. Things then get extremely awkward when Ross thinks his feelings for Cassie are reciprocated and leans in for a kiss, which she obviously rejects.
To top it all off the writers gave Ross a pretty lousy excuse, telling Cassie he hadn't had sex in a very long time.