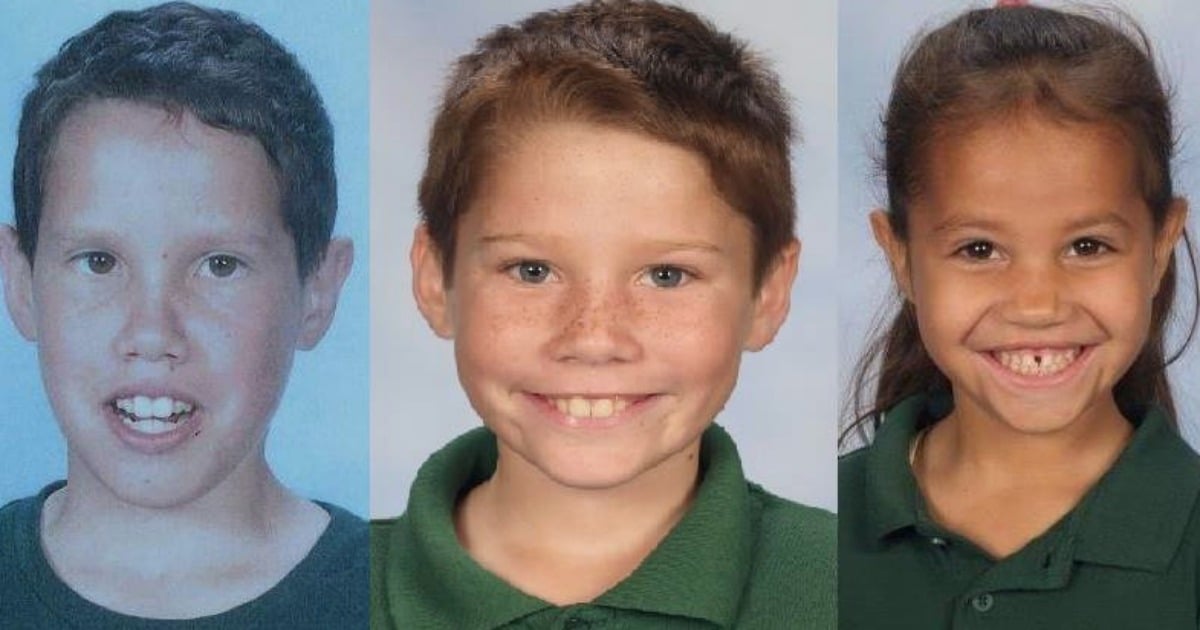 We've rounded up all the latest news from Australia and around the world – so you don't have to go searching.
1. Fears for three missing kids in Adelaide.
Searchers have continued throughout the night looking for three Adelaide children who went missing after football training at a sports oval on Wednesday evening.
Sienna Dodd, 6, Jayden Lawson, 10 Ethan Lawson, 12 (all siblings) – were last seen at Bice Oval in Christies Beach at 6pm.
They had been dropped at the oval for football training and it is believed they ran off.
Detectives believe the three intended to go to their father's house in Hackham West, a few kilometres away but never made it.
Police say they are actively making enquiries with family and friends in the area to find the children but have serious concerns for the children's welfare.
Anyone who sees them or knows their whereabouts is asked to call the Police Assistance Line immediately on 131444.
2. Police defend tactics after three women wounded in shooting at Sydney's Hornsby mall.
Police have been forced to defend their tactics after three women aged between 60 and 80 sustained gunshot wounds when two police officers fired at a man who was allegedly armed with a knife in a shopping mall in the Sydney suburb of Hornsby.
The actions of the two officers will be subject to a critical incident review.
A NSW police assistant commissioner, Denis Clifford, said it was "alarming" the three women had sustained injuries but said the two police officers who discharged their firearms had reacted to a fast-developing situation.
"Police had to make a very critical decision on the actions they took," Clifford told reporters at the scene.
Assistant Commissioner Clifford said the male and female officers were in a life and death situation when psychiatric patient Jerry Sourian ran at them armed with a large carving knife.
"The officers have fired shots at the offender, he was wounded several times —­ ­unfortunately some bystanders were also injured with other bullet or fragment wounds," Mr Clifford said.
"I wonder what may have happened if police had not intervened and stopped this person with the knife," he said.
Police have confirmed nobody was stabbed in the incident, ­despite earlier reports.
All four injuries were as a ­result of gunfire.
3. Schoolboy critical after playground game with another student goes wrong.
A schoolboy is in a critical condition after a playground game left him with head injuries.
Palm Beach-Currumbin High student Jamie Cox, 15, was rushed to hospital with serious head injuries, after being put in a headlock in the school playground by another student.
The two were playing a game called "tap out" where one person restrains another so they can't escape and have to "tap out" to be released reports The Courier Mail.
Police say Jamie lost consciousness and fell to the ground, striking his head and suffering a fractured skull.
Jamie was rushed to Gold Coast University Hospital in a critical condition.
Jamie's family told The Courier-Mail it was  like a prank gone terribly wrong".
An Education Department spokesman said students had been warned about these dangerous types of behavior.
"The school is treating the matter extremely seriously and is also working very closely with police," he said.
"Staff have spoken with the parents of both students. The school does not condone any behaviour or activity that puts another student at risk of serious injury."
Detectives from the Child Protection Investigation Unit have launched an official investigation.
4. Barack Obama has endorsed Hillary Clinton to succeed him as president of the United States.
Barack Obama will endorse Hillary Clinton as next US President.
In a video, the outgoing President praised the Democrat nominee for "making history" by becoming the first female elect.
President Obama said: "I don't think there has ever been someone so qualified to hold this office".
"Tens of millions of Americans made their voices heard. Today I just want to add mine," Obama said.
"I don't think there's ever been someone so qualified to hold this office."
"I have seen her judgment. I've seen her toughness. I've seen her commitment to our values up close,"
The announcement came just hours after rival Bernie Sanders's declaration he will compete in the last primary of the Democratic nomination race, despite Clinton having already claimed victory.
5. Man who bashed nine-month-old baby stepson so severely he was left permanently disabled sent to prison for 13 years.
A Sydney man who bashed his nine-month-old stepson leaving him permanently disabled has been jailed.
Eduardo Varas was sentenced to 13 years for the attack in Penrith Local Court with a non-parole period of eight and a half years.
The baby's mother told police she left her son with her then partner Eduardo Varas, 33 for one hour on July 6, 2014.
When she returned she saw her young son's "lifeless body surrounded by paramedics."
Judge Rodney Madgwick said the "injuries to the child can fairly be called catastrophic".
The court heard Varas had inflicted at least three acts of violence on the baby.
Nine News reports the baby spent three weeks on life support after the attack, and had part of the left side of his skull removed. He will need care for the rest of his life.
Outside court the baby's mother hit out at the sentence saying she felt "absolutely disgusted and betrayed by the system".
"No sentence would ever have been enough," she said
"I really thought it would be on the higher end – eight-and-a-half years for what he's done? Not good enough," she said.
"We've been given a life sentence… it's really not good enough," she said.
6. Mother banned from school under 115-year-old law after Facebook accusations.
A school has used a 115-year-old law to ban a mother over Facebook accusations towards teachers.
The woman took to Facebook to accuse the teacher at a school south of Wollongong of physically assaulting three children in separate incidents claimed the principal had lied about the abuse.
The school has used a 115-year-old statute – the Inclosed Lands Protection Act 1901 – to keep the parent away from the school.
The Sydney Morning Herald reports the school's decision came 11 weeks after the parent was issued a warning about an earlier incident at the school.
According to The Illawarra Mercury the mother "ran to the school and … screamed at [staff]" on that occasion, after her niece claimed the teacher had assaulted her.
"I've yelled, I've screamed, I've made phone calls and – as a last resort – this is what I've done," the mother said, on her social media posts.
"All I've heard is, 'You've probably ruined the school's reputation.' What reputation? The [reputation acquired] because they keep everything in the dark?
"The reason I named this teacher was because I knew it wasn't the first time."
In a letter the school invoked the Inclosed Lands Protection Act to forbid the mother to enter the school.
Writing to her "I do not consider your current access to [the school] to be in the best interests of either the students or the staff."
"You should note that entry on to the school is a privilege not a right.
"In accordance with my authority under the [act], you are directed not to come onto [the school] site again without my prior approval and then only for the purpose of seeing me. This directive is to remain in force for a period of 12 months."
The Sydney Morning Herald explains that the act forbids people from entering an enclosed area "without the consent of the owner, occupier or person apparently in charge of those lands" and that it "guards against the leaving open of gates."
The report points out are concessions for drovers who – faced with a straying cow, for instance – would have reasonable excuse for entering enclosed lands. Importantly (in 1901) there are provisions for goats.
"Any … person in charge of inclosed land may destroy any goat found trespassing thereon," it says, adding that goats with identifying ear tags should be spared.
Police can be called for any infringements and the persons breaking the act slapped with a $500 fine.
7. Seven out of 10 storm damaged homes at Collaroy face demolition.
Seven of the 10 storm damaged homes at Sydney's flood impacted Collaroy face demolition, with taxpayers hit with a multimillion-dollar clean-up bill.
The Daily Telegraph reports council engineers have grave concerns for the oceanfront properties as part of the nearby Beach Club had to be knocked down yesterday.
Locals have been told that up to seven homes may be too damaged to save and that all homes on the Pittwater Rd stretch at Collaroy had been left without a sewerage system.
Northern Beaches Council general manager Mark Ferguson told The Daily Telegraph his "heart went out to the homeowners" but they would not get any compensation.
"We are not liable for any damage and homeowners had the opportunity to build walls themselves".
Insurance policies usually do not cover damage by storm surges.
8. Only 2 per cent of dads stay home to look after their first babies.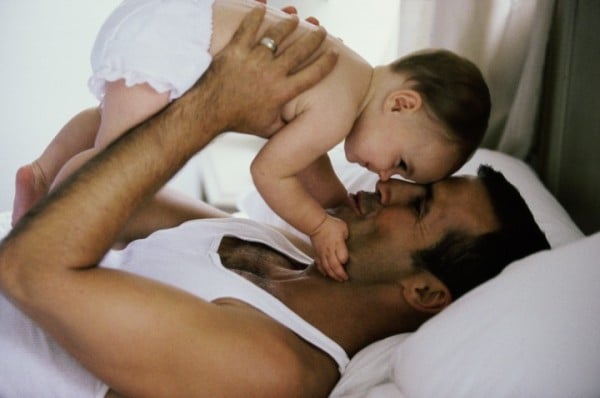 Even fathers who earn less than mothers are unlikely to stop working after their newborn is born. Via IStock.
Only two per cent of father stay home to look after their first babies, a new survey has found.
Even fathers who earn less than mothers are unlikely to stop working after their newborn is born.
The study by the Australian and New Zealand School of Government shows that 23 per cent of mothers (212 out of 752) but just 2.3 per cent of fathers (19 out of 804) stay home with a new baby.
"The birth of the first child had a large impact on mothers' paid work, but almost no impact on that of the fathers," lead researcher Dr George Argyrous said.
"The burden falls on the mother to balance her work and childcare obligations.
They said that regardless of their pre-birth education level, income level or income ratio relative to their female partner most new fathers did not change their work hours at all.
"On the other hand, almost all mothers reduced their work hours," Dr Argyrous said.
"Even women who were earning considerably more than their male partner reduced their work hours by an average of 17 hours a week."
But the study did find men who had more flexible work options were more involved in childcare.
"Offering part-time work options to fathers can help increase the amount of childcare they do," Dr Argyrous said.
He called for a shift in the "norms around the acceptability of part-time work for new fathers".
"Do fathers face discrimination and therefore are not able to adjust their work hours as flexibly as mothers can?" Dr Argyrous told The Herald Sun.
 Do you have a story to share with Mamamia? Email us [email protected]