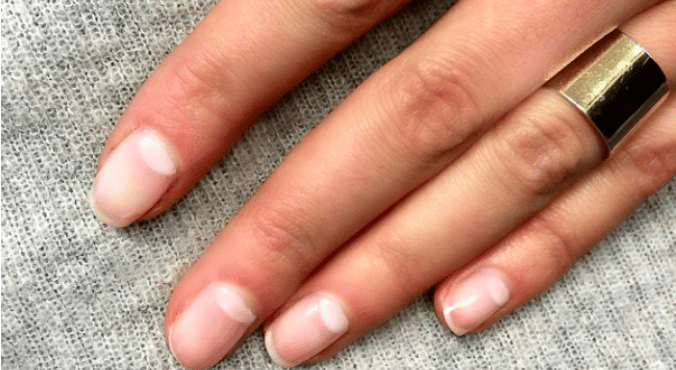 Image via iStock.
Pre-2015 it was unconsidered very un-chic to wear a French manicure. It's the kind of thing French Women Wouldn't Do in a Parisian how-to guide. If you wore a French mani, you were one of two things: a stripper or a bride.
So why is it that just when you think you've made your mind up about a trend, fashion's tastemakers can confuse you all over again? Because the simple act of painting your nail beds with a pale pink polish and a line of white on your tips is one of the most polarising things you can do to your hands.
Nail art: The elaborate wedding's final frontier

Once upon a time, a French mani was the only thing you'd only ever pay to get done at the salon. This was in the early 2000s when nail bars weren't on every corner, and acrylic fake nails reigned. You wanted to get your money's worth and it was the obvious choice to get something a little tricked up that you couldn't easily do yourself.
But now there are several things suggesting that there's been a seismic shift in the perception of the formerly daggy, suburban mum French manicure.
21 minimalist nail art designs so simple anyone can try it
Firstly, the therapist at the uber-cool Japanese nail salon I frequent was just last week rocking a French mani. I couldn't stop looking at it. It was puzzling. Now, I don't want you to get the wrong idea here – the girls that run this shop know all about nail trends. I've had intense discussions with them about the best cuticle oils from Italy and the best hard-to-import underground topcoat polishes from Japan. If there's a new nail trend emerging, they were already wearing it yesterday.
Secondly, this article, Are French Tips Cool Again? appeared on beauty website Into The Gloss. Talk about a snap moment for me. The beauty writer also knew someone cool who was shunning everything we've ever known to be true by sporting a French mani. She's also confused about what all this means.
Thirdly (and yes there is a thirdly, I'm taking this very seriously), I think we can squarely blame normcore – that blink-and-you'll-miss-it fashion movement no one really understood – for the French mani's resurgence.
Just like in the '90s when it became cool to shun anything with a motif and carry around copies of Naomi Wolf's anti-consumerism bible No Logo, normcore was about being anti-fashion. Ironically wearing normal clothes: New Balance sneakers, Kmart tracksuits, Birkenstocks, in a non-ironic way. In short, everything that wasn't cool became cool again. It translated from the streets to the trend forecaster's reports to the catwalks and back to the streets. And now it seems that normcore has hit nails.