IMPORTANT NOTE: No, this is not sponsored. Just a recommendation from a gal who's a little too keen on French Connection's new line.
I was streaming through the local shopping centre on my way to work when, mid wobble, I glanced at the shop window on my right.
And there she was. Red. Three-quarter length sleeves. Tassels. Teeny tiny pom poms.
It was the friggin' perfect dress. The dress dreams are made of. For, well, anything and everything. Spring races and rooftop bars. But also birthday drinks. And Sunday brunch. And work. And… um… sleep.
The shop window was belonging to French Connection and the doors were closed.
But I had a problem: it was bloody 8:50am and I needed to be at my desk in T minus 10 minutes. There was no time to wait for the doors to open and shower myself in glorious paprika-coloured fabric. I needed to run.
Then my eye wandered to the creations surrounding the dress.
"Holy sh*t."
Animal prints. Sequins. Colour. Stripes. Polka dots. Floaty dresses. Flared sleeves.
It was like Gorman and Seed had a baby. A beautiful, fun, happy, beautiful baby.
Listen: Maggie Alderson speaks to Mia Freedman about the importance of fashion after 40. Post continues after audio.
I got into work and hurriedly told weekend news producer, Zara McDonald, about my find. She had seen the shop window, too. We both momentarily died of a joint conniption and then set about deciding what we were going to buy first.
My heart was with The Dress. I mean, I NEEDED THAT DRESS. Zara's was with just about everything else.
Oh, I'd be back. (At Chadstone… on Monday… in the interests of specificity.)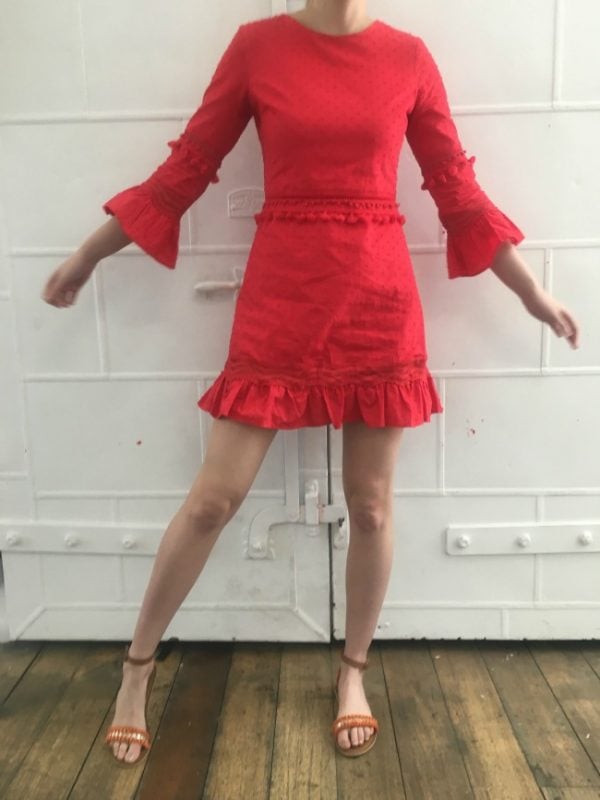 The Dress (official name Bell Sleeve Dobby Dress) cost me a cool $149.95 dubloons - more than I'd typically spend on an item of clothing - but absolutely worth it. I've worn it multiple times since buying it three weeks ago (to work drinks, to my friend's birthday gathering, to work again) and - to my wallet's delight - it attracts so many compliments... potentially because the paprika colour is BLINDING and I've singed holes in my colleagues' retinas.
I haven't spent $149.95 on anything in years... but I'd do it again and again for this dress.
In other news, I can say with absolute certainty that French Connection's new spring/summer line is the best (relatively affordable) collection to grace us with its presence in 2017. The next item I have my eyes/wallet on is the $89.95 Dobby Lace Peasant Blouse. It will be mine. I don't know how, or when, but it will be mine.
Sure, it's not the cheapest brand in the world, but I'd argue paying $50-$60 for a statement top is pretty damn reasonable.