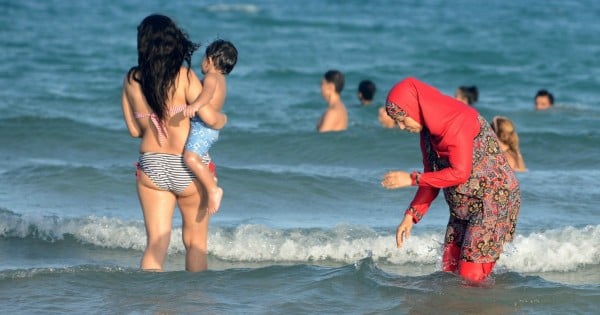 The decision of 15 French towns to prohibit women from wearing burkinis on public beaches has been widely criticised as racist, sexist, and entirely irrational. Despite the strong arguments against the ban that have made their way into public discourse, it's a series of images of an ordinary woman trying to cover herself on the beach that has most effectively portrayed the absurdity of the new law. Powerful photos published on Wednesday morning shared images of a woman wearing a headscarf, long pants and a long-sleeved shirt, minding her own business, who had been surrounded and challenged by police.
Just let this sink in. Men with guns forcing a women to undress, with the weight of the law behind them. pic.twitter.com/4BI16Bbss9

— Abdul-Azim আজিম (@AbdulAzim) August 23, 2016
In the images, she is shown removing her shirt under the instruction of the officers. It should be noted that she's not actually wearing a burkini – just conservative clothing at the beach – but according to the authorities, she had failed to wear "an outfit respecting good morals and secularism". Right. Because we all think about whether or not our clothing reflects 'good morals' before we leave the house. "Just let this sink in," read the tweet. "Men with guns forcing a woman to undress, with the weight of the law behind them." It was upon seeing the images of a peaceful, relaxed woman, surrounded by four police officers demanding she dress a certain way, that the ridiculousness of the entire situation fully dawned on me. 'Hang on,' I thought. How the hell did acts of terrorism, carried out almost exclusively by men, result in policing what women wear? How did violent acts by violent people become conflated with innocent people's religious beliefs? How on earth is a person's clothing choice a symbol of terrorism?