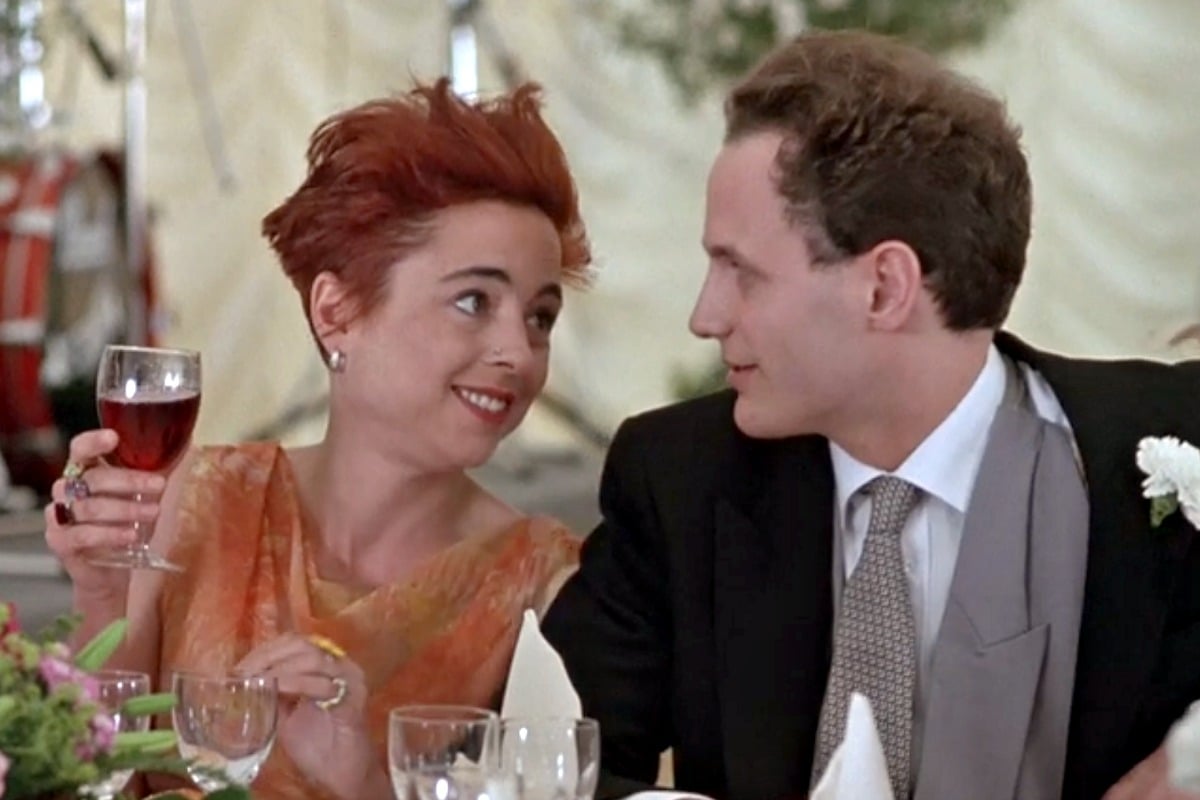 The upcoming Four Weddings and a Funeral reunion special might bring a few giggles and scratch a nostalgic itch. But it won't be the same.
Not just because it's 25 years since the beloved original, not even just because it's only a 12-minute film. But because the one-off remake, produced to raise awareness for UK Red Nose Day on March 15, will be without one of its most loved faces. That of Charlotte Coleman.
Known to fans of the film as Scarlett, Charles (Hugh Grant)'s adorably eccentric roommate, Charlotte died of an asthma attack in 2001, just seven years after her star turn in the romantic comedy classic. She was just 33 years old.
How did Charlotte Coleman die?
The BBC reported that Charlotte had been watching films at her parents' home on the evening of November 13, 2001, and had been "in great spirits" according to her father, former producer Francis Coleman.
"When she left she said she was feeling a little ill and I told her to stay with us but she wanted to go home," he told the outlet at the time.
Against their advice, Charlotte returned to her new flat in the northern London suburb of Holloway. When her parents phoned to check on her the next morning, there was no response.
Charlotte was found dead in an upstairs room of her flat by her mother, British sitcom actor Ann Beach. Her Ventolin inhaler was reportedly discovered downstairs.
Charlotte to Scarlett.
Charlotte's childhood was a turbulent one. Raised in a creative household, she started acting at the age of eight, and as a child landed starring roles in British children's series Worzel Gummidge and then as teenage rebel Marmalade Atkins in Educating Marmalade. Early fame took its toll.
"I thought I could do anything, and what I needed were some boundaries," she told Time Out in 1996. "I had my bottom tattooed at 14 and I sprayed the house with graffiti – some of it's still there because they couldn't be arsed to take it off and it was all, 'Oh, Charlotte's so creative', when actually I was being very destructive, cutting things up and pretending I was a sculptor or a fashion designer."
Charlotte was expelled from the prestigious Camden School for Girls at the age of 14, but later used her television earnings to enroll herself a progressive boarding school in Devon. It was a place where pupils "didn't have to go to any lessons, so I didn't. I spent 15 grand, all my money, and it was just stupid really," she said. She then went on to cookery school, and worked as a Sloane. But it was simply a role.