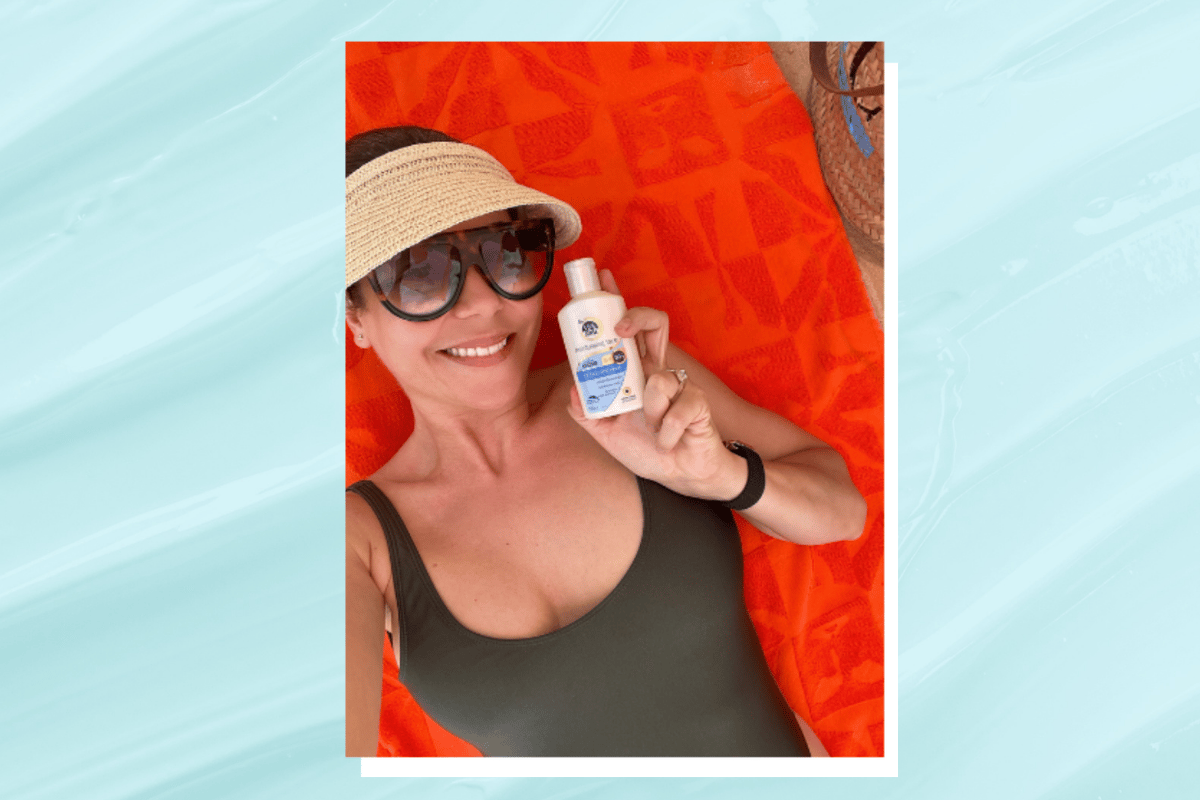 I've been working in women's lifestyle media for 20 years and have been a beauty editor of some description for 15 of those.
In that time I'd say I've tested probably 50,000 products. Maybe more. I've had more facials than most people have had hot dinners. Blow dries? I've honestly lost count.
Watch: 5 Minutes With Leigh | Cleansing, Toning and Hand Washing. Post continues below.
I don't tell you this to brag (although I'm aware I have a pretty damn good job and I'm very grateful). The reason I point this out is because through my decades of trials and tribulations I've learned a fair bit along the way. Many times it's from interviewing the world's leading experts in skincare and makeup, but other times it's by making mistakes myself. Dodgy fake tans? Yep, they still happen to me. Fried hair? Only myself to blame.
So here I'm going to share with you my timeless top tips I've accumulated over my career. They're not tips about trends or what's in and what's out. They're my failsafe, fall back tricks I always apply if nothing else.
You don't need a lot of skincare products
Sounds rich coming from me seeing as I recommend tubes and lotions to buy each and every week, I know. But I see so many women with 10 or 15 skincare products in their regime with not much knowledge of what they do or how to use them together. It gets expensive! Your skin will likely be very happy with less, too. If you're a product junkie, having lots is fine but don't try and work them all into a routine to put on your face at once. Instead, give what you're using ample time to work to see the desired results, then when that's finished move on to your new product. My non-negotiables are a good quality serum, sunscreen and night cream.
Make the goal the most low maintenance version of yourself
Life is busy. Time is hard to find. Be honest with yourself and assess which beauty appointments you'll be able to get to regularly and what will happen if you don't. Personally, I love the look of manicured nails but getting to the nail place once a fortnight just isn't realistic. So instead I keep my nails natural, a short square shape and buffed. Flawless glossy red might be the ultimate for me but in reality it'd be chipped and sad looking half the month and so clear and neat it is. It's the same for my hair - in the past I've loved a sleek straight lob (long bob) but I cursed myself when I had to style it every morning. So instead I have a longer style that works with my hair's natural texture and is far easier and faster to do.
Listen: You Beauty | The Queen Of 'Less Is More'. Post continues below.
So few people understand the transformative powers of bronzer
I think purely because of the name most women are put off by bronzer. They assume it's only for tropical holidays or is going to make them look two or three shades darker than their natural colour. Bronzer really should be called 'dimension powder'. Foundation is excellent at giving the skin a uniform coverage but the result is a face that just looks flat and unnatural so you really need to add back some dimension. A subtle sweep of bronzer along the hairline, under the cheekbones and along the jaw will give your face shape and make it appear slimmer and more 'awake'. It has nothing to do with looking tanned.
If nothing else, wear sunscreen
If you're a Youbie you'll know what I am about to say. There is precisely zero point in spending $200 on a fancy serum or getting regular facials if you don't wear sunscreen on your face. Up to 90% of ageing can be attributed to the sun, which can be thanked for lines and wrinkles but also dryness, uneven skin tone and pigmentation. All the skincare in the world can't undo what you're doing to your face if you don't wear SPF every day. Oh, and there's also that little issue of melanoma so just do it, okay?
 Hope you find my timeless tips useful. You can hear more every week on the You Beauty podcast, and MPlus members can watch the whole You Beauty video series. Make sure you submit your own questions so I can answer them for you.
Feature image: supplied.
Sign up to You Beauty.
The newsletter for your face.
Tags: