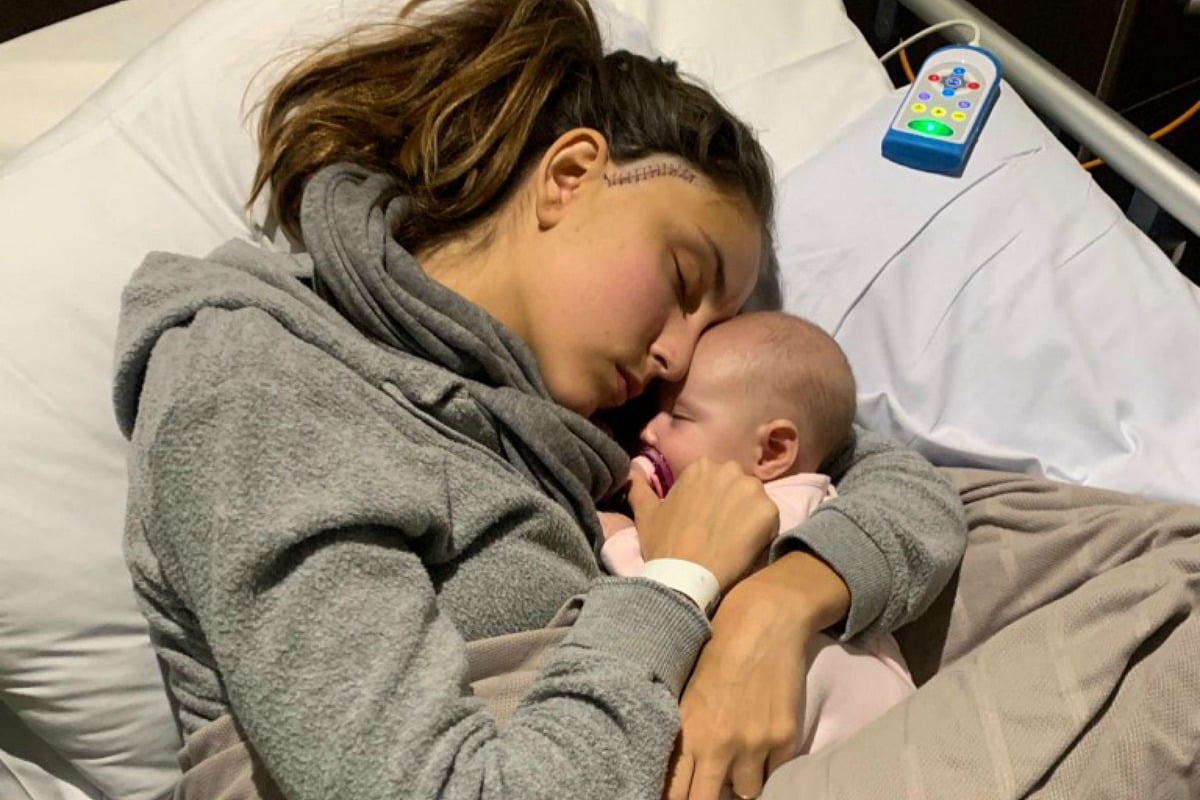 Eight years ago I found a brain tumour by complete accident. This year, that brain tumour joined the party uninvited again – and helped me realise the profound effect it has had on my life.
It's 8pm and I've finally put my kids to sleep for the night. Most days, I reflect fondly on the day: the cute things that happened, milestones reached, tantrums overcome. Today is no different, but lately, I find myself appreciating my family all the more because I have been reminded again of how fickle life can be.
I was unsure about writing this story because I know tough times are common. I haven't suffered compared to many others, and I don't feel a need for sympathy. Still, this is a cautionary tale of sorts, and I think that writing it down might help me process things better.
Sometimes, life throws you curve-balls. Host of No Filter, Mia Freedman, sits down with author of Special, Melanie Dimmit, to talk about her parenting experience. Post continues below.
In late 2010, I was 21. I had taken a gap year after school and was midway through a university degree. I needed a broader perspective and a chance to spread my wings, so I signed up for an exchange semester in the small university town of Tilburg, an hour outside of Amsterdam.
I have chosen to begin my story here for two reasons.
The first is because this time marked my final moments of absolute freedom from thinking about the events that would follow. Years later, I find it hard to reflect on because of how quickly it all disintegrated.
The second is due to a very specific moment. Weeks before leaving Tilburg, I bit into a Peanut M&M and felt something crack in my mouth. Without any initial pain, I paid no attention.
When I arrived home, I started experiencing pain in my upper gums so I headed to the dentist. To my dismay, I found no answers there.
With pain-induced sleepless nights, difficulty eating and a constant bad mood, my next call was to the GP. To my great relief, he helped to diagnose and treat a sinus infection.
I'm the type that chooses water and rest over medication for most ailments. I remember being with a friend, and upon realising the time, I insisted we eat something so I could take my next dose of Panadeine Forte before my earlier dose wore off.
I'd never had a sinus infection before and was beginning to sympathise with friends who had suffered them. I was also confused because my limited medical knowledge told me that sinus infections couldn't possibly take so long to respond to antibiotics and require such high doses of pain killers.
By process of elimination, the GP believed my next step should be a neurologist.
Once I had passed the neurologist's basic exam, she suggested a brain MRI – 40 minutes of claustrophobia and the sound of a truck backing up into my skull.