A Cameroonian footballer has died on the field during a Romanian league match.
Patrick Ekeng, 26, ran onto the field as a 63rd minute substitute for his club Dinamo Bucharest. It was only his seventh appearance for the club. The score was tied at 3-3.
Seven minutes later, Ekeng fell to the ground. The match was being broadcast live on television.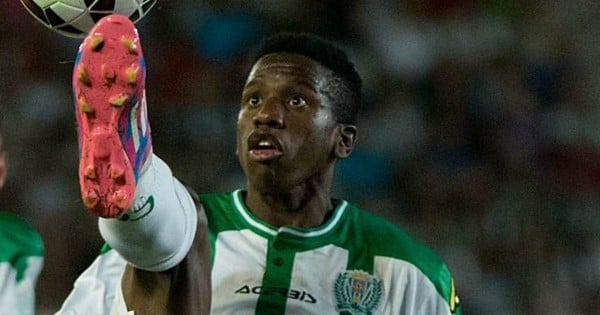 Patrick Ekeng playing for Corboda CF. Image via Getty. 
Paramedics were quick to his aid, but were unable to resuscitate him. He was pronounced dead at Floreasca Emergency Hospital less than two hours later.
Local Romanian news is reporting that Ekeng suffered a fatal heart attack, but a spokesperson for Floreasca Hospital says the cause of death is unknown.
The footballer left behind a wife and daughter.
Ekeng had represented Cameroon twice at the Africa Cup of Nations, and had played for Spanish club Cordoba CF, Swiss club Lausanne and French club Le Mans.
Team mates and his coaches were pictured crying during the match.
Last night, fans gathered outside the hospital in tribute.