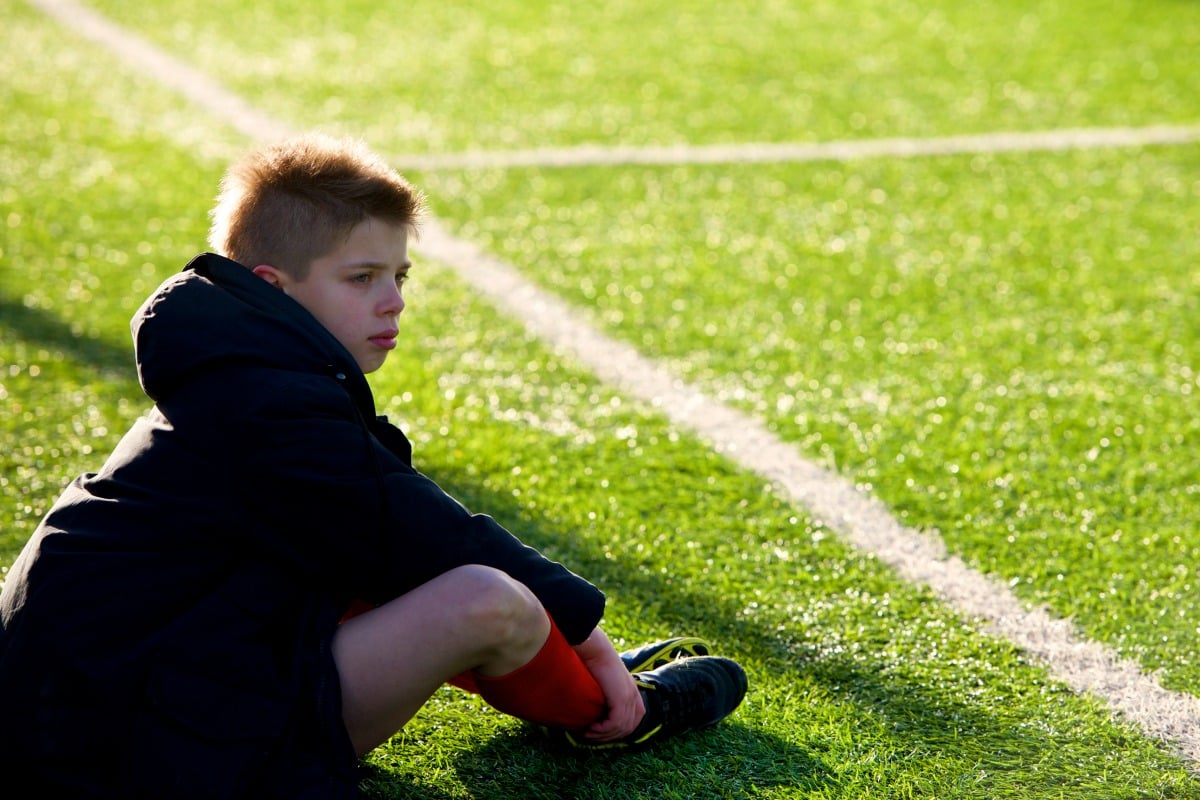 Let me be clear. I don't like sport.
I do not get the level of seriousness that goes down when it comes to running about the joint chasing, hitting, catching, marking, head butting or any other action, pertaining to a ball.
Round, oblong, whatever. Don't get it.
The money spent on shows dedicated to sport confounds me. In our little family alone, we have pay TV for the sole purpose of the sports channels. Sure, The Groom threw in the Entertainment, Movie and Kids packages to appease chants of "But it's SUCH a waste of money!!", but the fact remains that without his confounding need for 24 hour access to AFL, ESPN, darts (I'm not even joking), etc, we wouldn't have pay TV at all.
The six types of sports parents. Post continues after video. 
A lapsed nerd myself, my feeble forays into sport have been uniformly laughable. Growing up in a small, sport mad town, going to a secondary school where the Principal was a former AFL player (G'day Steery), I had no choice but to give it a crack.
I participated in school P.E., school athletics, local netball and local basketball. It was all humiliating.
My sport teacher was a portly lady with a natural predisposition to detesting nerds, and she appeared to take particular dislike to me. The one time she was nice to me was the day we did hurdles in sport, and I didn't fall over. Not one time.
We were both shocked, obviously, and as such she forgot herself, and said "You're good at that, Clemo." We never spoke of it again, such was our confusion.
Anywho, many years later, I married a man who cared little for literature, but could tell me things about sport that seemed quite important, yet I did not understand. It was like going to lunch with my Nana and Nunu's families. I really enjoyed being with them, and I kind of understood what they were saying, but there was a lot of nodding and smiling and not a lot of word for word comprehension.
Now we are neck deep in it. Three children, all inherited their father's passion and spatial awareness that is required for sport adoration and involvement. Our sons live and breathe AFL football, but have great passion for basketball, cricket, darts (still not kidding), etc. Our daughter told us when she was two that she was going to run for Australia in "The Lympics" when she was big. Judging by her pace on the basketball court, I don't doubt that.
Holly Wainwright and Andrew Daddo chat about why so many girls give up sport on This Glorious Mess. Post continues after podcast.