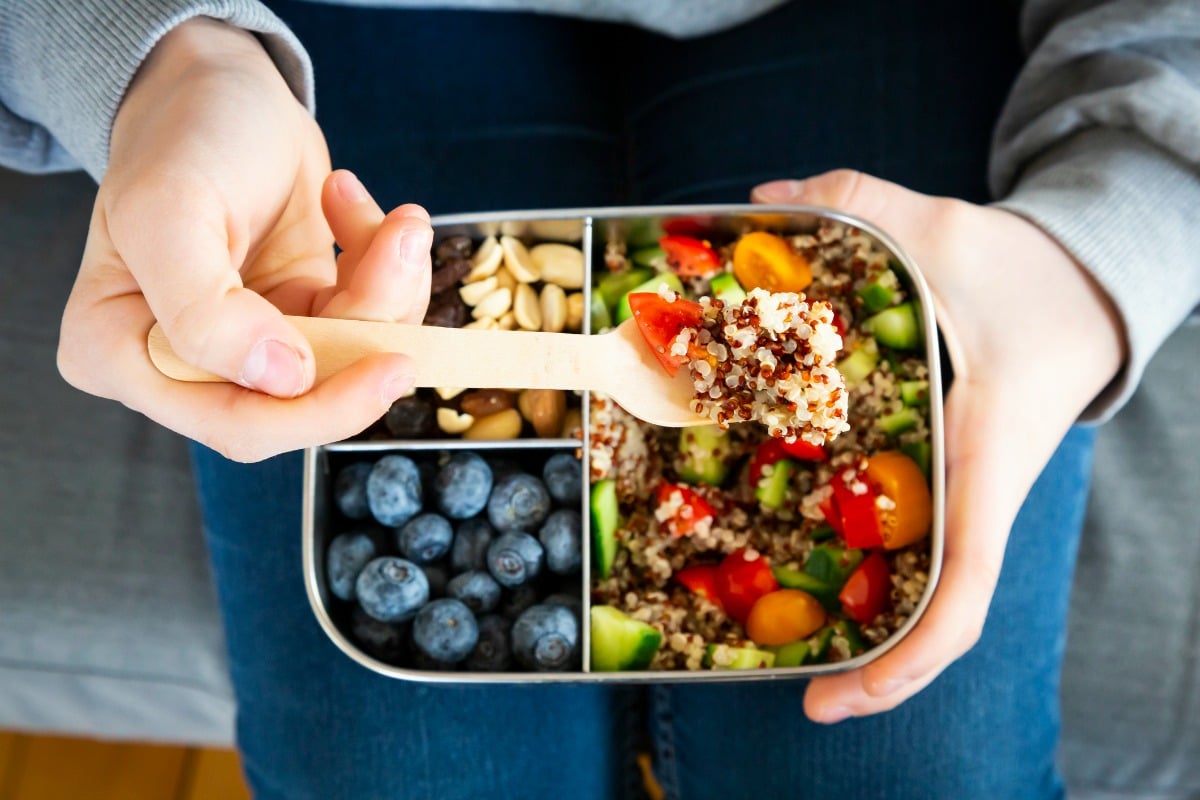 If you were looking forward to indulging your cravings for hot chips and tubs of cookie dough ice cream during your pregnancy, we have some bad news. Avoiding junk food has never been more crucial. 
"I always tell my mums that pregnancy is the most important time of your whole life to eat well," dietitian Melanie McGrice tells Mamamia. "It doesn't just impact on you and your nutrition, it can also impact the genetic programming of your baby for their whole future health." 
Research suggests that what a woman eats before she conceives, while she's pregnant and breastfeeding and what she feeds her baby in the first couple of years can all help program that child's genetics. 
"It can impact their life in many ways, from their brain development to their mental health to their risk of chronic diseases to their immunity to their gut microbiome and much, much more," McGrice adds.
Not only does a woman have to be careful of what she eats during pregnancy, she has to be careful not to eat too much. The idea of "eating for two" was ditched long ago. McGrice says in the first trimester, a woman shouldn't be consuming any extra calories. In the second and third trimesters, she only needs the equivalent of two extra slices of bread a day.  
Melbourne obstetrician and gynaecologist Dr Peter Jurcevic says the thinking on how much weight women should gain during pregnancy has changed. 
"In years previous, we used to weigh women at every visit," he tells Mamamia. "We were very particular about wanting to see incremental increases in weight."
Nowadays, it's recommended that women's weight gain in pregnancy should be in proportion to their starting body mass index. Underweight women are advised to gain more weight than overweight women. It's currently suggested that women with a BMI under 18.5 should gain 12-18kg, while women with a BMI over 30 should only gain 5-9kg. 
"The old saying was, 'Oh, you need that extra weight when you're breastfeeding,'" Dr Jurcevic says. "Well, no, you don't. All that extra weight is ultimately just accumulating fat." 
So what should a woman be eating during pregnancy?
The basics
The Australian Dietary Guidelines advise that pregnant women should eat a wide variety of foods from these five food groups every day: 
Vegetables of different colours, and legumes/beans (5 serves)

Fruit (2 serves)

Grain foods (bread, cereal, rice, pasta, oats, quinoa, etc), mostly wholegrain and/or high fibre (8 and a half serves – this is up from the usual recommendation of 6)

Lean meat, poultry, fish, eggs, tofu, nuts and seeds and legumes/beans (3 and a half serves – up from the usual recommendation of 2 and a half)

Milk, yoghurt and cheese or their alternatives (eg soy or rice), mostly reduced-fat (2 and a half serves)
McGrice is a big fan of fruit. 
"Fruit is obviously rich in vitamins, but it's also rich in fibre, which helps to reduce the risk of constipation, which is really common during pregnancy," she explains. "It also helps to optimise hormones and has been found to be one of the best foods for reducing risk of miscarriage."
Watch: How to make a mason jar salad. Post continues after video.