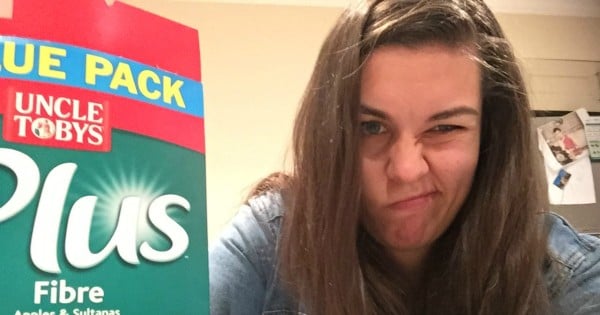 Breakfast is my favourite meal of the day. So much so that I get up at 4.30am to ensure I have enough time to work out, shower and whip up a feed worthy of a Surry Hills diner, all before heading out the door at 7.15am.
Every day I wake up looking forward to a culinary delight, typically consisting of avocado on toast with poached eggs, sautéed mushrooms, wilted baby spinach and tomato salsa. Yes, my dedication to breakfast is unshakeable.
We've spent the past few weeks in the Mamamia office celebrating all that is good about cereal. Not me though. I've remained unmoved. I'm literally the anti-Christ of cereal lovers. So when I was asked to do the five-day Uncle Toby's cereal challenge, I was not at all impressed.
'But guys, why me?' I lamented to the team, 'This is going to be torture.'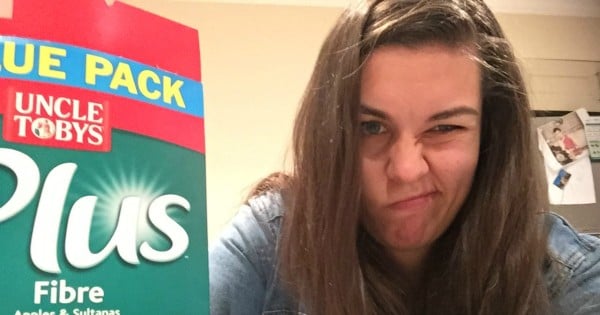 "I was not at all impressed." Image: supplied.
Most of the girls shot me sly, knowing smiles, 'Just give it a try, see what happens. You might actually like it.'
Fine, one bowl of cereal a day for a couple of days. It'll be fine. I'll be fine.
Day 1: Uncle Tobys Plus Fibre.
The first day. A new start, some might say. I wouldn't. I was reeling.
I figured I'd start with something healthy, to ease my way into the challenge. I took a deep breath, and quickly shoved the first spoonful into my mouth. I was planning on employing a similar technique to make my way through the bowl – blindly shovelling and swallowing what I perceived to be tasteless mesh until it was all over.