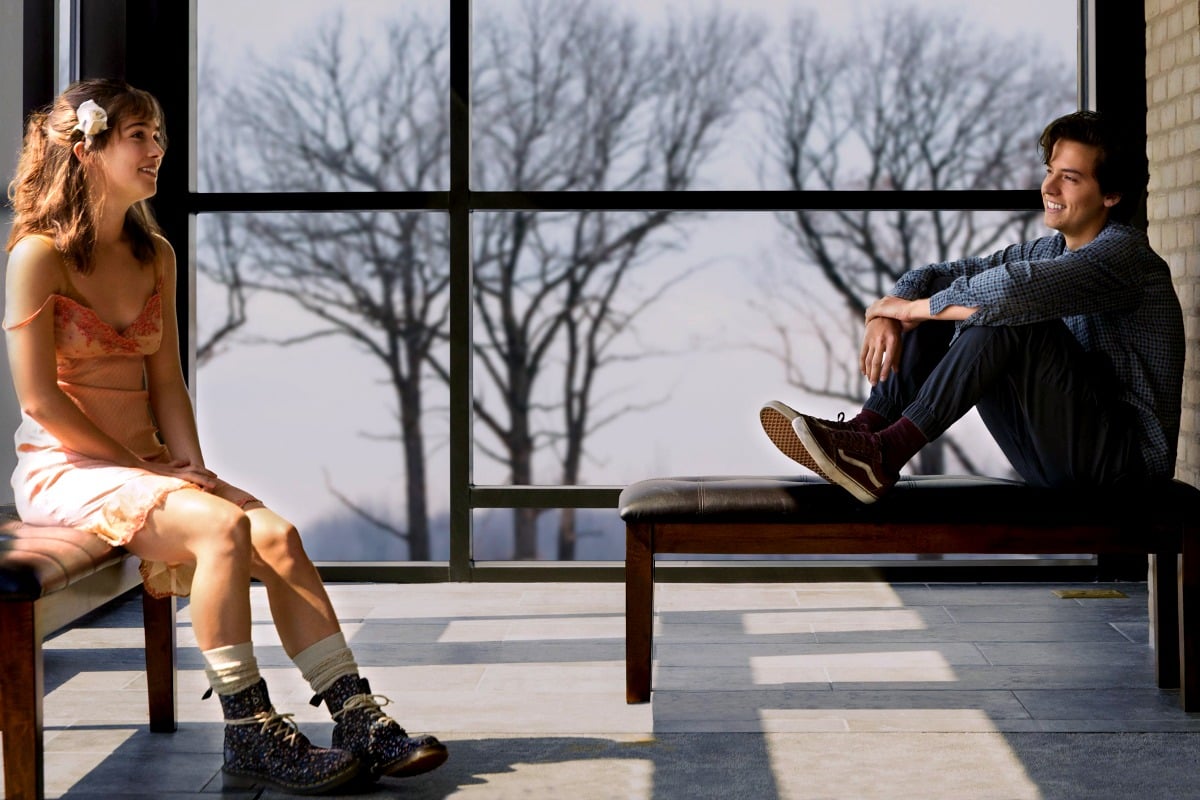 In news that will not help you sleep at night, terminal illness has replaced vampires and high school romances as the go-to plot point in teen movies.
From Love Story, to A Walk To Remember, to the wildly popular The Fault In Our Stars, it appears we're no longer content to just watch teenagers fall in love while navigating the ups and downs of canteen cliques and prom night drama. Instead, the stakes have been raised to include a more realistic set of fears, with star-crossed lovers now being forced to face up to their own mortality before they are even able to share a first kiss.
The newest entry into this pop culture genre, a genre known as 'sick-flicks' or 'sick-lit' if you're talking about the books on which they are based, is Five Feet Apart, the new teen drama opening in Australian cinemas this week.
Five Feet Apart tells the story of Stella (Haley Lu Richardson) a teenager with cystic fibrosis who is undergoing treatment in hospital, a brutal treatment regime she approaches with rigid military precision, while also regularly posting a YouTube diary chronicling her life inside the bland walls of the hospital.
Enter Will (Cole Sprouse), a smart-arse teenage boy with cystic fibrosis who arrives at the same hospital and is placed in a room down the hall from Stella so he can undergo a drug trial for the antibiotic-resistant infection he has contracted.
Five Feet Apart is very much a formulaic teen romance, so it's not really a spoiler to say Stella and Will start off as foes after their very frosty first meeting and discovering the wildly different ways in which they approach their illness. But of course, as they get to know each other, their feelings begin to deepen and they quickly form a deep bond that leads to very lusty feelings.
The kicker here is that due to their cystic fibrosis there is the dangerous risk of cross-infection if they get too close to one another, so they must stay five feet apart at all times.
According to Cystic Fibrosis Australia, cystic fibrosis (CF) primarily affects the lungs and digestive system because of a malfunction in the exocrine system that's responsible for producing saliva, sweat, tears and mucus. There is currently no cure.
The plot of Five Feet Apart is not based solely on one real-life event or person, but it was inspired by a series of people who live with conditions and illnesses like this every day.