A 34-year-old mother of one from Western Australia says she is "lucky" a Fitbit may have saved her life  – after it helped her discover a serious heart condition which can cause heart failure.
Felicity McQueen was given her "middle of the range" Fitbit by partner Darren Nell, 31, for her birthday last year.
"We didn't want to get the fanciest one, we're just average people who were trying to get fit," she told Mamamia.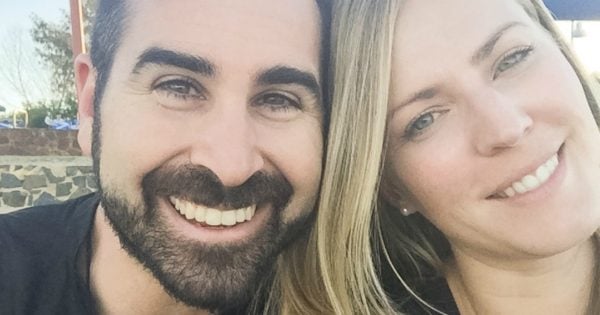 After a chance glance at the fitness tracker soon after she started wearing it, Felicity noticed her heartbeat was 150 beats per minute. (For adults, a normal resting heart rate ranges between 60 and 100 beats a minute.)
The WA mum was hardly moving - she had been sitting down doing paperwork with her partner.
The pair decided to go the doctor. Felicity was given a 24-hour monitoring ECG test and was referred to a cardiologist and diagnosed with atrial fibrillation.
"The cardiologist could see I had episodes of atrial fibrillation from the test and he said because I am young it's probably best to do the ablation surgery first - because being on medication forever is not much fun," she said.
"He said he could get some good results from the ablation surgery, but it can be the type of procedure that might need to be done a few times to get it right," she added.